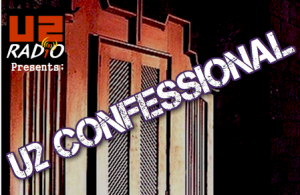 You've been naughty, haven't you?  We saw what you did with the trash,
trampoline and party girl.  Shame!   It's time to repent.  Step into the U2
confessional and confess your funny, craziest, wackiest, sinful U2 ways and go
into the weekend cleansed.
Mine:  While home alone the other day, I was pretending to be Bono at the beginning of Until the end of the world from the Slane Castle video and gyrated so much I threw my back out.  When my wife found me an hour later lying on the ground, I told her that I slipped on one of our son's toys.  He got the punishment he deserved.
Post your U2 confession here and U2radio.com will have mercy on your soul.
The following two tabs change content below.
joepit
An avid U2 fan, who doesn't take our group too seriously. Sixth grade teacher, married and have an 8 year old boy who is also a huge fan...he didn't have a choice.