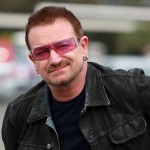 So, I was minding my own business and watching the Oscars when this story hit my inbox – "Bono employs person to drive his bed around on tour." My first thought was, "this has got to be a joke". But, after seeing the same report posted on several different websites, I guess there is something to this. Bono travels with his bed.
The Irish Examiner reported (via The Sun newspaper) that concert promoter Stuart Ross stated, "I know somebody whose job it was to drive Bono's bed from hotel to hotel on the last tour. Bono wanted to sleep in his own bed every night. So instead of being able to fly him, I assume, back to Dublin, there was a bed that was in a Ryder (rental) truck and they loaded it into the hotel." Not that I take the Irish Examiner as the gospel, or The Sun for that matter, but can you imagine being that Ryder truck driver? I mean, did he (or she) ever tell their family and friends what job they had? Freelance bed mover. Nice.
Bono has had back issues over the last several years, and we could assume that it gives him fits from time to time. Remember, he had major back surgery in 2010 that caused the stoppage of the 360 tour. So are we to believe the Bono does indeed travel (on tour) with his own bed? If so, will he be dragging it along with him on the new tour later this year and into 2015? We'll just have to see now, won't we.
Hit the link below to read the original, of the original story.
The following two tabs change content below.