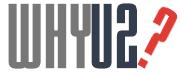 I was thinking today about the ways in which Songs of Innocence did and didn't meet my expectations – not so much with regard to how much or how little enjoyment I get from the record, but more in the ways U2 did or didn't do what I thought they'd do. In the most important sense, the band delivered exactly what I expected, which was an album full of memorable,engaging, songs that should satisfy fans both old and young. How they got there, though – the style and sound of those songs – is completely different from what I expected.
I honestly thought that U2's thirteenth album would be a merging of the techno-centric pop music that dominates airwaves today with the traditional U2 sound of big emotions and bigger choruses, designed to be sung along with at full volume in an arena full of people, but equally at home in clubs across the world. In short, pop music is in and rock is out, and I thought that U2's muse would lead them down a path toward greater radio airplay. Especially when I heard some of the names that they'd been in the studio with – Ryan Tedder and Paul Epworth, for instance – I imagined a misguided attempt to fit in with a crowd that's more about expensive shoes than helping with the AIDS crisis in third world countries.
I was confident that it would be good, but I have to admit that I was nervous. What they delivered, though, is a hard rockin' album full of songs that sound as though they don't give a damn what you, me, or anyone else thinks, which is exactly where U2 needed to come from with this record. It was a ballsy move, and one that I think will pay off for U2 in the long term, but the bottom line has proven to be, as the band's promotional tour continues to underscore this point on an almost nightly basis, the songs. Not flashy CGI, not big name producers, not even hot beats. Simply 11 amazing new songs full of passion and joy and pain, performed expertly by the only band capable of delivering such a thing in today's world. Just one more reason to love U2.
The following two tabs change content below.
broadsword
Ever since I realized as a kid, while poring over the liner notes of the Bob Marley - Songs of Freedom boxed set, that writing about music was a viable career choice, one of my greatest desires has been to write about U2. The band has been a major part of my life for as long as I can remember, and I'm thrilled to have this opportunity to contribute a little something to the fantastic online community that's been built around the band.
Latest posts by broadsword (see all)