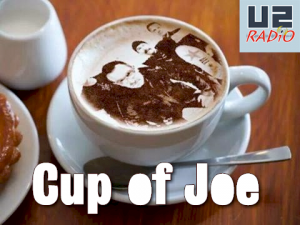 "Let me introduce you to the scientist of the family."  That was the introduction of The Edge by Bono at the Boston Garden on the Elevation DVD in 2001, what now seems like 100 years ago.
Today, I'm going to introduce you to another scientist in the U2 family.  No, he's not as gifted musically and wouldn't think of covering his locks of joy with a beanie, but like The Edge, his contribution to the U2 community is one of greatness.  His name is Jim, scientist by day, U2 fanatic morning, noon and night, 24/7, 365 days a year.
Scientist Jim had one of his coworkers snap a picture of Jim wearing his white plastic lab coat with a simple U2 phrase "Zootopia" written on it.  The purple irises that the camera could not see caught something much more colorful, the birth of an idea.  Faster than Bono could say the word relevance, Jim's care package called "The Lab Coat" was packed up and making its way around the world to other Zootopes who shared Jim's passion of U2, stopping wherever a U2 fan was willing to don the masterpiece, adding on their few words of U2 encouragement, a song title here or a song lyric there.
Before you knew it, the "Lab coat" had racked up more frequent flier miles than U2.  Visiting such exotic places as Dublin, Spain, Austria & Albany???  Pictures were taken at every stop along the way chronicling the journey of Jim's idea.  Each participant wore the lab coat with pride and a smile that illustrated how happy they were to be part of a community that has us all connected, regardless of distance.
Today, the lab coat is still on the road heading to a U2 fan near you. You, too, can absolutely be a part of this endeavor. Jim would not have it any other way. U2 may be in hibernation, but its fan base is alive and kicking, especially Jim.  We are all proud to have worn the lab coat, but we're more proud of Jim's simple idea that has brought U2 fans so much joy, and so much closer to each other.  We are most proud to call Jim our friend.
If you are interested in participating in "The Lab Coat" Experience, register on the site and leave a comment in the comment section and I'll pass it on to Jim or his lovely assistant, Deanna.