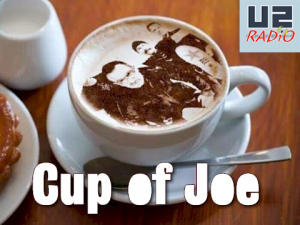 When I look at the world I see one thing…ICE CREAM! Who doesn't like ice cream?
I, for one cannot get enough of that lovey, dovey stuff. So, today I am going to ice cream out loud and say that all the problems of the world can be solved over a bowl of The Sweetest Thing.
The conflict between Israel and Palestine can be solved over a scoop faster than Gaza can strip. Put a bowl of candy floss ice cream in front of Putin, and the Russia/Ukraine dispute is resolved before the bowl gets licked.
Now, Bono can't personally resolve every problem worldwide – if he could we would have had the new CD three years ago – that's where U2 ice cream comes into action.
July is National Ice Cream month, and what better way to solve the world's problems than by launching a new brand of flavor flav, U2 style! The world would be much better off if two scoops beat as one.
Without further ado, here are the newest U2 inspired flavors that are coming to an ice cream truck near you.
Sundae Bloody Sundae
Lemon Sorbet
Cappuccino line on the Horizon
Original of the Reese's Pieces
Rum days are better than others
Peach Sequence
One Green Tea Hill
A Day without coffee
Miss Pistachio
German Chocolate Cake up Dead Man
Trash, Trampoline & Party Chocolate Swirl
Cookie Dough Delight my way (Ultraviolet)
Beautiful Sorbet
Almond Praline on me
Honeydew you feel loved?
Mudpie Will Follow
Papayahweh
Pecan & Woman
With or Without Tiramisu
Bullet the Blueberry Sky
Cantaloupe help falling in love
Lime Not Your Baby!
Fig swirls are best
Nutcracker Suitest Thing
Plum
Sure, these U2 titled flavors are ridiculously stupid, but isn't fighting over land borders just as ridiculously stupid? Imagine if two people with different opinions sat across from each other with nothing more than a bowl of ice cream and began to communicate.
My guess is that they would quickly realize that they are more similar than different. I don't have time for lactose intolerance, never-mind border intolerance.
I can't believe the news today or the past few weeks. We need more ice cream and fewer bullets, bombs and tanks. Love and Peace or Ice Cream is what I say. The goal is a bowl!
The following two tabs change content below.
joepit
An avid U2 fan, who doesn't take our group too seriously. Sixth grade teacher, married and have an 8 year old boy who is also a huge fan...he didn't have a choice.