New U2 Album and Tour on track.
Well there is nothing like getting some new U2 album release news and a possible U2 performance to brighten an otherwise bland Tuesday at work. According to the Irish Examiner and The Sun, U2 are on track for a new album release later this year (other rumors tag the release in November), and The Sun newspaper reported that U2 could possibly perform at the iTunes Festival gigs at the Roundhouse sometime in September.
It is believed the band – who are set to play at one of the iTunes Festival gigs at the Roundhouse in Camden, North London, in September – could even have their new material ready to debut at the performance. – IrishExaminer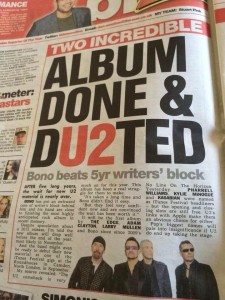 The Sun newspaper also reports that "U2 are now confident in the new material, and that Bono is believed to have suffered from writer's block throughout the production process". This seems to mesh with earlier reports stating that Bono was unsure of the material. Billboard reported originally back in March that the album & tour "has been virtually unraveled ", and that the band wasn't happy with what they had.
One question that remains unanswered, was the unraveling and delay of the release because of the producer or due to Bono's possible writers block? Is Danger Mouse still producing or Tedder/Epworth?
I guess there is plenty of time for all that stuff later. For now the fact that some fresh news (or rumors) on a new U2 album have surfaced this can only mean that bigger news might be just around the corner. The 5 year wait could finally be coming to an end.
You know the saying, where there's smoke, there's fire. Let's hope this time that the smoke turns to a U2 fire.
Be sure to check out the U2 new album news & rumor page for the latest on what is known about the future release and tour.
The following two tabs change content below.
A starter, technology nut, father of three, and a husband to one. Curator of U2 Radio.