One of the lessons I have learned on my musical journey on the road with U2 is to never ever leave a concert early. Not that anyone would willingly leave a U2 concert early, but you might feel it is safe to make your way out of the stadium when you see the band walking off stage. On July 2, 2011 at Vanderbilt University in Nashville, Tennessee, U2 played their typical show closer, "Moment of Surrender." After they took their bows, Larry, Edge and Adam started to walk off stage. Bono called them back saying they had a surprise guest. It had been a long, exhausting couple of days for me, especially driving 16 hours from Miami the previous day, but I am very glad I did not leave that U2 concert early.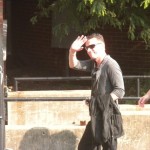 Like the 360 show in East Lansing, this Nashville show was also at a college. It was at Vanderbilt University. There was no actual backstage nor dressing rooms. We quickly discovered where U2 was going to enter, because we saw signs for the dressing rooms on the building attached to the stadium. Since it was really hot and sunny, we decided to stand in the parking garage to wait for them. We had a great view of where U2 would get out of their cars and enter the building, or if they walked out to sign autographs and take pictures, we could run down to meet them. Edge arrived first, waited in the car a while, and then went into the building. I noticed that Edge's car had a Shelby County license plate, which is Memphis. Then I saw Willie Williams give Edge's security guy a Sun Studio tee shirt. Were U2 in Memphis visiting Sun Studio and Graceland without me? Bono arrived next and started to walk toward us, but his security guard Brian pulled him back saying they didn't have time. Adam and Larry arrived at the same time. Adam got out of the car first and went into the building. Larry got out of his car and smiled and waved to the fans then went into the building. I didn't get to speak to Larry, but this was the first time this tour I saw him arrive at the stadium and get out of his car and wave to us.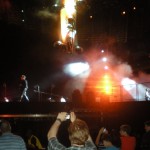 I easily made it into the inner circle, even though it was a small college stadium. This was the last show Florence and the Machine opened, which was fine with me. I watched the show in Nashville from Adam's side of the stage. U2 entered from Adam's side of the stage, so for only the second time I did not watch U2 walk under the stage from Edge's side. During "Even Better Than the Real Thing," Bono said, "In a sea of songs, where you going to take us tonight Music City?" Before "The Fly," Bono said, "Nashville, Tennessee! With love from Berlin 1991. The Fly," And then again in the middle shouted "Achtung Y'all!" Bono pulled our friend Dan up on stage during "I Will Follow" – it was Dan's birthday. There was a lot of echo during "I Will Follow," which I don't remember hearing before. During the band introductions, Bono mentioned U2 had not played Nashville since 1981 and then said his name is Bono and they are a band from Dublin, Ireland. Bono went on to say, "Behind me the man who gave us our first job and made us as a result unemployable for anything else. He's a handsome man. He's a thoughtful man. And he's had that haircut since 1981. Larry Mullen on the drums." Before "I Still Haven't Found What I'm Looking For," Bono said, "In a city of masters, we're students. We'll stay students." Later in the song, Bono said that their friend Cowboy Jack Clement was in the audience. Clement worked with Sam Phillips at Sun Studio in Memphis and recorded Elvis Presley, Johnny Cash, Jerry Lee Lewis and many others. Clement recorded U2 at Sun Studio for Rattle and Hum. Immediately following "Still Haven't Found," Bono started singing "The Wanderer" trying to imitate Johnny Cash's voice. At the end, he said, "forgive us Johnny." This was the first time "The Wanderer" had ever been played at a U2 concert.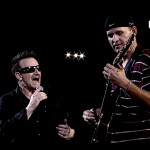 After "Moment of Surrender," Edge, Larry and Adam were walking off stage when Bono announced they had a special guest. A guy appeared on stage and played guitar to "All I Want is You" while the rest of the band joined in. The fan dedicated the song to his wife and then Bono gave him his green 'Goal is Soul' guitar. As I was walking out of the stadium, I noticed the fan who was on stage playing "All I Want is You" was walking out right in front of us. He was blind, and he did not have the guitar with him. He said he had a sign saying something like 'pull a blind man up on stage' and U2 was going to mail him the guitar. He also said he didn't realize what was going on. He said he thought the concert was over and then Bono pulled him up on stage. I later realized he was the same guy who had been emailing me earlier that day looking for a GA ticket. I guess he found his GA ticket. This fan is Adam Bevell, and we have kept in touch through social media. So let this be a lesson to you, don't ever leave a U2 show until the house lights come on. Then you know for sure that U2, like Elvis, has left the building.
The set list for the Nashville 360 show was as follows: Even Better Than The Real Thing, The Fly, Mysterious Ways, Until the End of the World, I Will Follow, Get On Your Boots, I Still Haven't Found What I'm Looking For / The Wanderer, Stay, Beautiful Day / Space Oddity, Elevation, Pride, Miss Sarajevo, Zooropa, City of Blinding Lights, Vertigo, I'll Go Crazy / Discotheque / Psycho Killer / Life During Wartime, Sunday Bloody Sunday, Scarlet, Walk On – You'll Never Walk Alone, One, Amazing Grace / Where the Streets Have No Name, Hold Me Thrill Me Kiss Me Kill Me, With or Without You, Moment of Surrender, All I Want Is You.
[youtube http://www.youtube.com/watch?v=G6InUy1jNWA?rel=0&w=853&h=480]
The following two tabs change content below.
I have finally found what I am looking for - all because of U2. I am writing my U2 memoir called "On the Road with U2: my musical journey." It is about the 75 U2 shows I've been to since ZooTv, including my three-month road trip during the last leg of the 360 Tour where I drove to every US concert. More than just the concerts, it is about the places I've been, the people I've met, and my quest to meet Larry.
Latest posts by On the Road with U2 (see all)