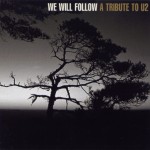 The very first U2 tribute album that I ever bought was We Will Follow, a collection put together by, and featuring artists from, Cleopatra Records, a label known mostly for their gothic and industrial output. I confess that, like I imagine many of you must be, I was somewhat skeptical about whether or not the label could produce anything worth hearing, considering the disparity between U2's own source material and that produced by some of the bands appearing on the record, but I like some of the bands on Cleopatra's roster almost (but not quite) as much as I like U2, so I dutifully made my way down to the record store and special ordered this back when it first came out – to be honest, this was back in 1999, in one of those awful dry spells between U2 releases, and I was desperate for something U2 related that I hadn't already heard a thousand times.
Like a lot of compilations with a wide variety of artists, the results were pretty mixed. There are a few tracks which are reworked magnificently, but there are just as many that are virtually unlistenable, they're so bad. On the balance, I suppose that I could say that the album was better than I had feared, but not as good as I had hoped. Let's start with the good, and work our way down from there.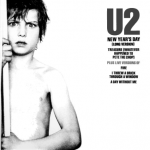 The first thing on this record that really excited me is the cover of "New Year's Day" performed by Front Line Assembly featuring Tiffany – yes, that Tiffany. As evidenced by the vast number of remixes of "New Year's Day" that have been released from a huge number of sources over the years, New Year's Day is a song that really translates well to the dance and electronic genres. It makes sense, of course, since, like "New Year's Day", most musical types that fall under those categories feature strong bass-lines at the forefront of their sound. Tiffany's vocals are a little bit flat at times, but it kind of fits with the subversion that I think Front Line Assembly is going for here. This is definitely a stand-out track on the record.
A few tracks later, Spahn Ranch is responsible for an absolutely knock-out cover of "I Will Follow", exchanging the original's energy and excitement for a hypnotic tranquility that gives entirely new dimensions to the song. This is the kind of thing that makes cover songs so exciting, when the performer isn't just parroting the original – really, what's the point? – but imprinting something that we all know and love with their own unique spin, giving a shiny makeover to our old, dear friend. Silverbeam and Ann Louise, two musical entities that I know very little about, provide the third and final stand-out track on this collection, by accomplishing a similar feat with "Where the Streets Have No Name". Where U2's version is all yearning and striving, infused with the warmth of the sun-rise on the teeming African Savannah, Silverbeam's cover is breezy and hopeful, like the first thaw of spring.
Although I have to give credit to Die Krupps for trying to do something unique with "Numb", their cover of the Zooropa single is, frankly, awful. "Numb" is such a strange little song, and is tied so closely to the ZooTV ethos, I wonder if it wouldn't have been easier for Die Krupps to tackle another U2 song with less baggage. Since we're talking about "awful", I've got to also warn you away from the Polecats' rock-a-billy version of "Desire". As I'm listening to this, the first thing that turns me off is the singer's voice. It's like nails on a chalkboard, and I'm tempted to say that their arrangement might work if someone else were singing it – someone with a more masculine voice, more aggressive and sharp than this whiny screech. Whatever the case, do yourself a favor and skip this track.
The above represent my picks for the stand-out tracks from this album, both good and bad. The remainder of the album's 14 tracks fall somewhere in the middle. I was initially concerned that some of these version might be too "out there", but the reality is that most of these stick too closely to the originals, with very little offered that isn't simply regurgitating what U2 did to make these songs so great to start with.
The following two tabs change content below.
broadsword
Ever since I realized as a kid, while poring over the liner notes of the Bob Marley - Songs of Freedom boxed set, that writing about music was a viable career choice, one of my greatest desires has been to write about U2. The band has been a major part of my life for as long as I can remember, and I'm thrilled to have this opportunity to contribute a little something to the fantastic online community that's been built around the band.
Latest posts by broadsword (see all)