The first time I visited Chicago was for the U.S. opener of the 360 Tour in September of 2009. U2 played two back-to-back shows at Soldier Field. The first show was my favorite because it was opening night and everything was new to me. More importantly, that 360 Tour Opener in Chicago on September 12th became one of my favorite shows because it was the first time I heard "Unforgettable Fire," and it was the only time "Bad" and "Pride" were played on that leg of the tour. "Pride" is one of my favorite songs and unlike most U2 fans, I don't ever want it left off the set list.
I arrived in Chicago at 2pm the day before opening night, driving up eight hours from Memphis. It was my first time ever in the windy city. Before even checking into my hotel or seeing any of the sights, I went straight to Soldier Field to check out the GA line situation. This was one of the few times I would wait in the GA line on the 360 Tour. I got my wrist band for #115. We were not actually allowed to line up at the stadium until 6am the day of the show, so I went and checked into my hotel. That night I went to Buddy Guy's Blues Club for a beer. As I was leaving, in walked Buddy Guy himself. He denied me a picture, but it was still pretty cool. Before heading back to the hotel, I walked down Michigan Avenue past Grant Park just to soak in some of Chicago.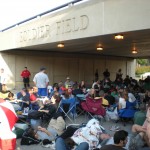 The next morning I woke up at 5am to be in the GA line by 6am. I sat in the sun all day, almost 12 hours. I had a great time though catching up with all my old U2 friends I had met on the Elevation Tour. On my way into the stadium, my wristband fell off. It was very chaotic. I finally made my way inside the circle and got a spot in the back on the rail a little right of center, which is where I wanted to be. Snow Patrol opened.
The concert opened with Larry playing the drums by himself then the rest of the band came out to "Breathe." Larry sang on "Get on Your Boots," "Unknown Caller," and "Moment of Surrender." This is the first time I had really seen Larry sing in concert, if you don't count "Dirty Old Town" back on ZooTv. Larry walked around the catwalk playing his conga during "I'll Go Crazy." I was of course wearing my "Larry Mullen Band" tee shirt, but he didn't stop in front of me. I heard "Unforgettable Fire" and "MLK" for the first time. I was very excited because "Unforgettable Fire" has always been one of my favorite songs. U2 also played three other of my favorites: "I Still Haven't Found What I'm Looking For," "Pride" and "Bad." I was very emotional, crying several times. I loved this show. I was so excited and so drained after. It was just like the good old days of Elevation. I was so happy because I had not felt that excitement and emotion on the Vertigo tour.
The full set list for U2 360 U.S. tour opener in Chicago on September 12, 2009 was as follows: Breathe, No Line On The Horizon, Get On Your Boots, Magnificent, Beautiful Day – Far Far Away – Blackbird, Elevation, I Still Haven't Found What I'm Looking For – Stand By Me, Stuck In A Moment, Unknown Caller, The Unforgettable Fire, City of Blinding Lights, Vertigo, I'll Go Crazy If I Don't Go Crazy Tonight (remix), Sunday Bloody Sunday – Oliver's Army, Pride, MLK, Walk On – You'll Never Walk Alone, Where the Streets Have No Name, One, Bad – Fool To Cry – 40, Ultraviolet, With or Without You, Moment of Surrender.
The next night U2 debuted "Your Blue Room" and the set list set a precedent for how the rest of the 360 tour would be, but no other 360 show that leg would include both "Pride" and "Bad." In fact, I would have to wait two years until the last show of the U.S. tour to hear both of those favorites again. I had a lot of magnificent moments on the 360 tour, but there was nothing quite like going to the tour opener and having the show open with Larry walking onto the stage by himself and play a drum solo when I had no idea that was going to happen.
The following two tabs change content below.
I have finally found what I am looking for - all because of U2. I am writing my U2 memoir called "On the Road with U2: my musical journey." It is about the 75 U2 shows I've been to since ZooTv, including my three-month road trip during the last leg of the 360 Tour where I drove to every US concert. More than just the concerts, it is about the places I've been, the people I've met, and my quest to meet Larry.
Latest posts by On the Road with U2 (see all)