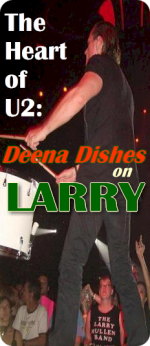 Despite having the reputation for being the quietest, most non-approachable member of U2, Larry Mullen Jr. is responsible for many memorable quotes over the years. My all-time favorite Larry line, and part of which I still use frequently, is from the Achtung Baby documentary that aired on MTV in 1992. Larry said,
"I don't think the lyrics are worth a shit to be honest, if you ask me. I think it's all about drums."
In the movie Rattle and Hum, Larry ironically had a lot of great lines even though he didn't want to be filmed as much as the others. From those lines came another favorite quote of mine. So much so, that I use it as a tagline for my blog. When asked about what Rattle and Hum was about, Larry replied,
"It's a musical journey." 
Here are some of my other favorite Larry lines:
"It took me 40 years to get up front. I'm glad I'm spending my birthday with 18,000 of my closest friends. I feel like I could borrow money from you." (at Larry's 40th Birthday show in Providence, RI on Elevation Tour)

"If I had a head like yours, I'd bleedin' bury it!" (referring to Edge in Rattle And Hum)

"They're coming to a rock and roll concert and watching television. That says it all." (referring to ZooTV)


"I joined a band to hit things."

"I met Adam. And I got so excited when I saw him cause he had bushy blond hair, he had tinted glasses, and a really long afghan coat, and all the beads and all the gear. And he just looked so cool. And I said I want to be in a band with him."

"Then Bono arrived, and he meant to play the guitar, but he couldn't play very well, so he started to sing. He couldn't do that either. But he was such a charismatic character that he was in the band anyway, as soon as he arrived. I was in charge for the first five minutes, but as soon as Bono got there, I was out of a job."

"We're doing the same thing, it's just the wrapping is different." (referring to Popmart)

"There's a thin line between interesting music and self-indulgence. We crossed it on the Passengers record."

"It's a tough life being a pop star. You know, at the end of the day when you've paid all the bills and put the kids through college and that, you know, there's only enough left for a small island off the South Pacific."

The following two tabs change content below.
I have finally found what I am looking for - all because of U2. I am writing my U2 memoir called "On the Road with U2: my musical journey." It is about the 75 U2 shows I've been to since ZooTv, including my three-month road trip during the last leg of the 360 Tour where I drove to every US concert. More than just the concerts, it is about the places I've been, the people I've met, and my quest to meet Larry.
Latest posts by On the Road with U2 (see all)