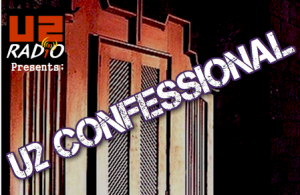 Has the 1st week of Lent put your "I'll Go Crazy if I Don't Go Crazy Tonight"
lifestyle into submission? Do wild thoughts still escape every time she walks
by?  Are you like a needle to sin's spoon?  Then get on your knees, boys &
girls, and hop into U2radio.com's confessional box to cleanse your soul.  Confess
your craziest, wackiest, funniest U2 sinful ways.  You won't live any longer,
but it'll feel like you did.  Sinner!
Mine- I have Wake Up Dead Man as the ringtone for my 81 year old father.  I figure he's One Step Closer to leaving my contact list soon enough and I feel horrible, but I'm too lazy to change it.
The following two tabs change content below.
joepit
An avid U2 fan, who doesn't take our group too seriously. Sixth grade teacher, married and have an 8 year old boy who is also a huge fan...he didn't have a choice.