U2 has made my life what it is today. I am not sure what my life would be if it were not for U2. I am not unique though. Ask any U2 fan, and they will tell you that U2 has changed their life. One of the many things U2 has brought into my life is the gift of travel. I have visited many great places all because of U2. One great city U2 has brought me to is Chicago, which is now one of my favorite cities. Being a fan of both baseball and history, I had always wanted to visit the iconic Wrigley Field. Because of U2, I got to do that.
The first time I v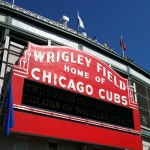 isited Chicago was for the U.S. opener of the 360 Tour in September of 2009. U2 played two back-to-back shows at Soldier Field. The first show was my favorite because it was opening night and everything was new to me. More importantly, that 360 Tour Opener in Chicago became one of my favorite shows because it was the first time I heard "Unforgettable Fire," and it was the only time "Bad" and "Pride" were played on that leg of the tour. Unlike most U2 fans, "Pride" is one of my favorite songs and I don't ever want it left off the set list. Instead of waiting in the GA line for the second show, I spent the afternoon at Wrigley Field – a dream realized. It was a beautiful day!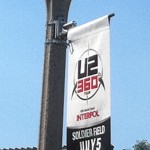 Two years later U2 returned to Soldier Field on July 5, 2011 on the last leg of the 360 Tour. This show was to become one of my favorites. I arrived in Chicago two days before the U2 show, driving straight from the Nashville show. I spent the 4th of July in the Windy City! I had a great time walking on Michigan Avenue, eating at the Purple Pig, visiting the Chicago Tribune Building and playing at Millennium Park. I had thought about going to the White Sox game, even though it wasn't Wrigley. I found out later that I should have gone to the game because Larry and some of the 360 crew were there.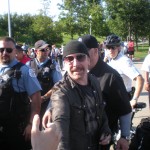 On the day of the show, I spent a relaxing morning in my hotel and arrived at Soldier Field by 3pm to await U2's arrival. Around 5:30, Bono and Edge drove past the screaming fans and into the stadium. A few minutes later, Edge walked back out to greet the fans. I was surprised because it was a good five or ten minutes after he drove in, plus no one had stopped to greet the fans since Bono did in Oakland almost exactly a month before. Edge went to the other side of the street to sign autographs, so I didn't think we would get the chance to meet him, but we did! I had met Edge back on Elevation and gotten his autograph, so I just wanted a picture with him. Edge declined a photo, so I just shook his hand – his guitar playing hand! I asked Edge if Larry was coming out. He said, "I can't say for sure. I can't speak for Larry." I thanked Edge for coming out to greet us, but I think it was too late and I had already offended him. I don't think Edge had a sense of humor about me asking if Larry was coming out like Bono did in Seattle and Oakland. Bono got a kick out of my quest to meet Larry. 
I went into the stadium and took my usual spot on Edge's side of the inner circle, but behind the stage where U2 walks in. This time Larry winked and waved at me. During the opener "Even Better Than the Real Thing," I made my way back over to Adam's side of the inner circle. Bono said, "Aw yeah ChiTown in the summer. Where ya gonna take us tonight?" Before "The Fly," Bono said, "A whole side of Achtung Baby for you." But it wasn't. Bono is always overstepping like that. During "The Fly," Bono again screamed "Achtung Y'all!" like in the ZooTv days. During "Mysterious Ways," Bono sang a snippet from "Trying To Throw Your Arms Around the World." I was really hoping for an all Achtung Baby concert at some point in the tour since it was the 20th anniversary, but that never happened.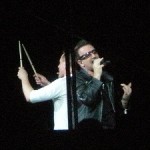 Instead of "I Will Follow," U2 played "Out of Control" – finally! I had been wanting to hear "Out of Control" the entire tour because it has a better energy and gets everyone (including the band) much more excited than "I Will Follow." Bono mentioned "Out of Control" was their first single and that he had met the love of his life the same time he met Larry, Edge and Adam. After "Out of Control," U2 went right into "Get On Your Boots." This was an amazing back-to-back combo of songs full of excitement and energy. It was at this point I knew that Chicago show was going to be my favorite of the 360 tour – tied with Anaheim2.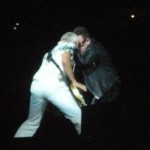 After "Get on Your Boots," Bono started talking. This is usually the part where he introduces the band, but he talked about the band more than actually introducing them. Bono said that Larry and Adam had been in Chicago for the 4th of July. Bono said, "Larry watched the White Sox win last night." I knew I should have gone to that White Sox game! Bono introduced "I Still Haven't Found What I'm Looking For" saying, "This is a single off The Joshua Tree for Island Records circa 1987." Then in the middle of the song, Bono announced that John Cusack was in the house and said, "Happy Birthday John." During "Elevation," Bono said, "Take me to the other side. I'm in Larry Mullen's band."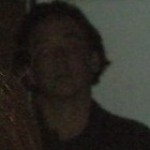 When I walked back way behind the stage to get a spot to watch U2 walk off the stage and out of the stadium, I could also see John Cusack watching the show! After "With or Without You," Bono said that two days ago was the 25th anniversary of Greg Caroll's death and they had written a song about it, but they were not going to play it. The crowd booed, so Bono said they would discuss it and maybe play it after "Moment of Surrender." U2 played a snippet of "One Tree Hill" after and then Bono said, "Ok here's the deal. If we screw up really badly, you can't put it on the internet. Fair?" Edge was trying to figure out how to play it and shouted, "For fuck's sake!" Luckily, Edge figured it out and U2 played "One Tree Hill" for the first time in the U.S. since 1987. It was amazing, especially when the drums and bass kicked in! I went nuts. The Joshua Tree is my favorite album and I did not see the Joshua Tree tour because I was only 14 and was not allowed, so anything played from Joshua Tree  is a gift to me!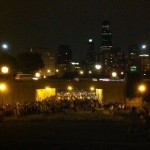 My 70th U2 show since I started my musical journey in 1992, this U2 360 show in Chicago was my favorite of the tour, along with Anaheim2. There was such a great energy in Soldier Field and the inner circle was really crowded, even where I stood behind the stage. The set list for the U2 360 show in Chicago on 7.5.11 was as follows: Even Better Than The Real Thing, The Fly, Mysterious Ways / Tryin To Throw Your Arms / Independent Women, Until the End of the World, Out Of Control, Get On Your Boots, I Still Haven't Found What I'm Looking For / The Promised Land, Stay – In the Wee Small Hours, Beautiful Day / Space Oddity, Elevation, Pride, Miss Sarajevo, Zooropa, City of Blinding Lights – My Kind of Town, Vertigo, I'll Go Crazy / Discotheque / Life During Wartime, Sunday Bloody Sunday, Scarlet, Walk On – Battle Hymn of the Republic, One, Will You Love Me Tomorrow / Where the Streets Have No Name, Hold Me Thrill Me Kiss Me Kill Me / My Kind of Town, With or Without You, Moment of Surrender / One Tree Hill, One Tree Hill. 
[youtube http://www.youtube.com/watch?v=ucea4oPHfrA?rel=0&w=640&h=360]
2011-07-05 One Tree Hill
The following two tabs change content below.
I have finally found what I am looking for - all because of U2. I am writing my U2 memoir called "On the Road with U2: my musical journey." It is about the 75 U2 shows I've been to since ZooTv, including my three-month road trip during the last leg of the 360 Tour where I drove to every US concert. More than just the concerts, it is about the places I've been, the people I've met, and my quest to meet Larry.
Latest posts by On the Road with U2 (see all)