Up for discussion today is the last show from the first leg of the Lovetown tour, December 1st, 1989, in Osaka Japan. For some reason, I've been listening to a lot of Lovetown shows lately. I think it's probably because of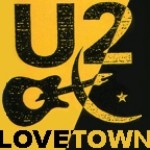 the variations in setlist from show to show. With a tour not too far on the horizon, I've been mentally compiling dream setlists, and Lovetown featured some songs that really didn't see too much attention otherwise, such as Love Rescue Me and Van Diemen's Land, not to mention the last time that 80's mainstays like Gloria and One Tree Hill appeared on a regular basis…a lot of the same reasons that the tour is so highly regarded among the fan base. Additionally, by this stage of their career, U2 had gained enough experience that their shows were less…shambolic…than some of the earlier outings, they had a larger catalog from which to choose their setlists, and they were, by all accounts, one of the most popular bands in the world if not THE most popular. Their shows were well attended with fans who knew the songs being performed and were excited to see U2. All of these factors should have meant that U2 were having the times of their lives, but with 25 years of hindsight, we know that the exact opposite was true. They were bored and feeling like, although they'd accomplished what they set out for, it was an empty, meaningless victory.
Thus it was that on this particular day the band decided to shake their setlist up even more than they'd been doing. Songs that were normally saved for the encore, the "big guns", like New Year's Day and Pride, were played early in the set, while a trio of songs from the latest album, normally the heart of the show, were saved for the encore. In a move that's rare even by today's standards, the band also debuted a brand new song, Slow Dancing. I should also mention that the band were absolutely on fire at this show. Every single song stands out as a great, potent example of why U2 have the reputation they do, but particular highlights for me included the guitar solo at the end of One Tree Hill and the snip of Suspicious Minds in Angel of Harlem. All of that would be enough to make this a noteworthy show – even on the Lovetown tour, full of shows with unique setlists, this show stands out as the most unique – but let's not forget People Get Ready. I wish that I could have been in the front row of this show, so that I could have witnessed for myself just what it was that got Bono so riled up, but it seems that at the end of I Still Haven't Found…there was a scuffle of some sort in the audience. Bono made a plea from the stage for peace, then called for the band to play the Curtis Mayfield classic, "People Get Ready", a salve for an unruly crowd if ever there was one. Apparently, the troublemaker in the front row of the audience couldn't take a hint, and so Bono lit into him, both barrels, just after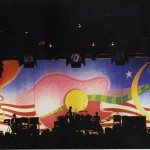 the second verse. Some of you may be reading this at work or in the presence of ladies, so I won't quote Bono's rant, but be sure you listen to the mp3 below when it's safe to do so. Although I may never know the full details of what took place to set Bono on the warpath, I think I can probably make a fairly accurate guess. I've always imagined that some dude in the front row was being a bully, maybe pushing somebody around, and Bono saw it. He tried to take the nice way out, without embarrassing anyone, but when the trouble persisted…well, Bono lost his temper. Maybe he was feeling frustrated from the direction his career was taking. Maybe he had a fight with Ali before the show. Maybe he just doesn't like injustice, and you know what? I say bless him for it. I'm sure that if he were reading this, Bono wouldn't like what I say next, but, well, he can stop reading, can't he? Superman once commented that he "fights for those who can't fight for themselves". Doesn't that remind you of Bono? Now, I don't think that Bono is any better than you or I. He's not some super-human savior, nor does he have the great responsibility that comes with great power, but he does champion justice, particularly for those without the means to defend themselves. All the band do, from Adam's recent mental health campaigning, through Edge's Music Rising organization, Larry's AIDS commercials, and the singer's work against poverty. They inspire me to do what I can. To stand up when I see wrong, to give my time, attention, and, yes, money, to causes greater than myself. Bono arguing for peace from that stage reminds me that we're all in this together, and although there will always be legitimate reasons to be outraged, anger doesn't have to be destructive, it can be a force for good.
01 Stand By Me
02 Pride (In the Name of Love)
03 New Year's Day
04 I Still Haven't Found What I'm Looking For
05 People Get Ready
06 MLK
07 One Tree Hill
08 Where the Streets Have No Name
09 Gloria
10 Help!
11 Bad
12 Van Diemen's Land
13 The Star-Spangled Banner
14 Bullet the Blue Sky
15 Running to Stand Still
16 Slow Dancing
17 Angel of Harlem
18 When Love Comes to Town
19 Love Rescue Me
20 Desire
21 All Along the Watchtower
22 All I Want is You
23 "40"
The following two tabs change content below.
broadsword
Ever since I realized as a kid, while poring over the liner notes of the Bob Marley - Songs of Freedom boxed set, that writing about music was a viable career choice, one of my greatest desires has been to write about U2. The band has been a major part of my life for as long as I can remember, and I'm thrilled to have this opportunity to contribute a little something to the fantastic online community that's been built around the band.
Latest posts by broadsword (see all)