This weekend, U2 are once again hoping to fill that Oscar shaped hole in their award cabinet at the 86th annual Academy Awards, in Hollywood, USA. The last time our guys were up for an Oscar was 11 years ago, when U2's "The Hands That Built America" lost to Eminem's "Lose Yourself". As far as I can think, the Oscars are really the last major entertainment award, in America, anyway, that the band haven't won. I'm sure the point is debatable, but what is unquestionably true is that they've won a boatload of awards.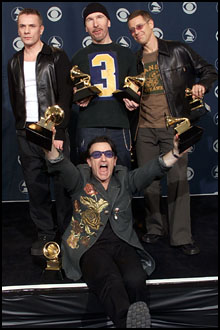 The first big, prestigious awards given to the band all came during the late 80's and were centered around the Joshua Tree.
MTVgave them a Viewers Choice award in 1987 for With or Without You, but the weightiness of that honor is also open to debate. For my money, in the world of music, on this side of the pond, it doesn't get any bigger than the Grammy awards, and U2 received two of those in 1988, "Best Rock Performance by a Duo or Group With Vocals", and the prestigious "Album of the Year". My flawed memory sometimes tries to convince me that the band didn't get good at public stuff, speeches and the like, until the 90's, but the acceptance speeches given for these awards, by Edge and Bono respectively, were very charming and funny. From today's perspective, it's also neat to see Edge's first wife, Aislinn, in the audience, and to watch the band, unused to acclam, as they were at that stage, beam as they accepted their trophies. The band also received a Brit award, which I'm told is roughly equivalent in importance to our own Grammys, that same year for Best International Group. It surprised me, as I was watching the video in preparation for this article, to see how much Larry had to say at this particular show. Again, the broad grins on everybody's faces is a real treat.
The band won the same award 3 of the next 4 years at the Brits, and garnered another few of Grammys as well. I've long contended that they should have won Album of the Year in 1992 for Achtung Baby as well, but they did pick up another "Best Rock Performance…" that year. (For the record, they finally got that second Album of the Year award in 2005, for How To Dismantle an Atomic Bomb.) The rest of the 90's weren't too kind to U2 – we all know the story about how the band's experimentation tarnished their critical shine somewhat (I still maintain that it was some of their best work, but that's another article) but the Grammy voters did see fit to award Zooropa with "Best Alternative Music Album" in 1994. Aside from the question of who decided that U2 were now an alternative act, this particular award program was made noteworthy by another exceptional example of Bono's way with words. Clearly, Bono did not expect to win this award, and didn't have anything prepared for an acceptance speech. He stood at the microphone for a minute, said a few nice things, and was obviously bemused. He then looked down and fiddled with the award, before looking back up and directly into the camera, a mischievous gleam in his eye. "I'd like to give a message to the young people of America, and that is: we shall continue to abuse our position and f**k up the mainstream." Really, for me, that sums up ZooTV, and even Popmart, in a nice little nutshell. I can't help but cheer every time I see it.
The band continued to receive the occasional award during the next 6 or so years, having won a total of a half dozen Brits by the turn of the millennium, as well as 7 Grammys and 5 MTV Awards. Things really took off in 2001, however. U2's much publicized "re-application for the job" with All That You Can't Leave Behind won them a combined 7 Grammys in 2001 and 2002, 2 more Brits and, among others, my personal favorite award they've ever gotten. The 2001 Godlike Genius award, from NME magazine.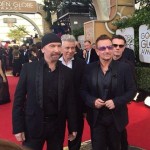 Skip ahead another year or two to 2003. This was the last time U2 were up for an Oscar, as I mentioned above, and was their first real foray into the world of film. They did win a Golden Globe that year, just like they did earlier this year for Ordinary Love, and Bono's oration was again a hot topic following that program. When it was announced at the show that Hands That Built America won, Bono naturally got excited. Nothing wrong with that, as far as I'm concerned. It was refreshing, honestly, but a lot of viewers were shocked and dismayed when, upon accepting the trophy, he announced that it was "f**king brilliant!". Unlike the Zooropa Grammy flap, I honestly don't think that Bono was trying to cause trouble here. He was stoked about winning the award, nothing more.
I don't know what U2's chances are this weekend. I think that the song deserves recognition, and, of course, I'd dearly love to see them win that Oscar. I also can't help but think that the ego boost that would accompany such an award could only help speed up the album we're all waiting for. Besides, if they do win, I can't wait to hear what they've got to say. I think it's unlikely that we'll hear any profanity this time around, and that's OK. Bono's already mentioned that he'll thank Nelson Mandela should they win, and I've gotta say that as much as I think U2 deserve that award, Nelson Mandela, who was such an inspiration to the band for all those years, deserves it even more. Fingers crossed this Sunday, everybody.
The following two tabs change content below.
broadsword
Ever since I realized as a kid, while poring over the liner notes of the Bob Marley - Songs of Freedom boxed set, that writing about music was a viable career choice, one of my greatest desires has been to write about U2. The band has been a major part of my life for as long as I can remember, and I'm thrilled to have this opportunity to contribute a little something to the fantastic online community that's been built around the band.
Latest posts by broadsword (see all)