Things have been quiet in U2-land lately as the band gear up for their Innocence + Experience World tour, which opens on May 14th in the city of Vancouver, British Columbia, Canada. That's just about ten and a half weeks off as I write this, and there a couple of questions concerning the tour on the collective mind of U2 fandom.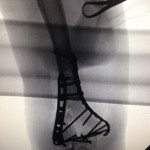 Number one is "How in the world can Bono be ready?" Our dear Mr. Hewson is currently on the road back to wellness from a nasty, face-breaking bicycling accident that happened last November in New York. Several surgeries and three and a half months later, Bono still looks fragile, but I believe that he can do it. First of all, Bono works hard at keeping in shape, and doctors will tell you that that's a great help when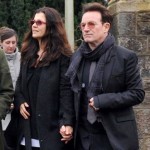 recovering from serious injuries like our favorite front-man has suffered. Secondly, Bono is nothing if not driven, and after all the time and effort that went into the recording and preparation of Songs of Innocence, I believe that Bono will do any and every thing that is humanly possible to be fighting fit by the middle of May. It won't be the first time that U2 and the members thereof have accomplished the seemingly impossible. Even Songs of Innocence itself is a little bit of a miracle, and I don't think that Bono will let anything stand in the way of the album's supporting tour.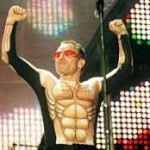 The other big issue on people's minds is set-lists. Band members have mentioned that different nights of the tour will see vastly different shows, but just how different those shows will be remains a mystery, as does the nature of those differences. I've kind of been harboring a suspicion that one night might see mostly acoustic performances, a la MTV Unplugged, with these acoustic shows alternating with traditional "plugged-in" performances. Another possibility is that U2 is ready to really dig deep into its catalog and  to play different songs each night. Who knows? Last time out we got "Zooropa" and "Your Blue Room", can "Acrobat" be far behind? A third option is that my guesses are nowhere close to what U2 is actually planning, and we'll all be surprised when the tour gets going. Of the three possibilities, that last one strikes me as most likely, and the honest truth is that we just won't know until the 15th of May. Whatever the case, I'm eagerly anticipating the upcoming tour. It'll be great to see the band on the road again, and whatever is up their sleeves should be refreshing and exciting.
The following two tabs change content below.
broadsword
Ever since I realized as a kid, while poring over the liner notes of the Bob Marley - Songs of Freedom boxed set, that writing about music was a viable career choice, one of my greatest desires has been to write about U2. The band has been a major part of my life for as long as I can remember, and I'm thrilled to have this opportunity to contribute a little something to the fantastic online community that's been built around the band.
Latest posts by broadsword (see all)