In honor of the birthday of U2's musical conscience, evil scientist and visitor from outer space, I'm taking a break from Bonoisms this week to honor Mr. David Evans with what we'll call his "Edgeisms." The Edge is a mysterious figure, no doubt – but it's not hard to see that he's also probably the friendliest, most genteel member of U2 (yes, more genteel than Adam "Rhett Butler" Clayton).
There is just a graciousness about Edge that is admirable and attractive, and as much as I love Bono, I can't deny that The Edge is probably a bit more of a gentleman. But because he rarely speaks to the audience (remember, he's the "Zen Presbyterian; he doesn't speak much, but when he does…"), I'm forced to simply list some of the rare moments when Edge has stood in the spotlight and shined. Okay, so here we go:
Numb. Yes, we all love "Van Diemen's Land." But five years later, it was Edge's other stint as lead singer, "Numb," that got everyone's attention, whether they were a U2 fan or not – probably because of the video that accompanied it. It was Edge's stoic, stationary pose while speak-singing and enduring face binding, Bono singing falsetto into his ear and all manner of other distractions (including his about-to-be wife belly dancing seductively in front of him) that makes "Numb" one of U2's most memorable music videos ("You see kids, a music video is something that used to be on that channel that has those Teen Mom shows"). Okay, next!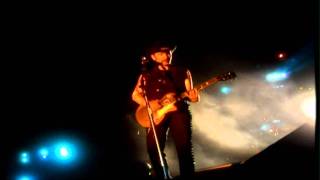 Sunday Bloody Sunday, Popmart. You know when you get tired of hearing a certain U2 song, and you think there's no other way they could possibly arrange it to make it something you would ever want to hear live again (ahem, "Mysterious Ways")? For some people, that song was "Sunday Bloody Sunday" until the Popmart tour. For all its flaws, one thing that the Giant Lemon Show had going for it was Edge's solo, acoustic performance of "Sunday Bloody Sunday." It was slow and haunting, yet it injected new life into an old song – and now, it's back to being a highlight of the U2 show, with the original arrangement and Bono on vocals. Thanks, The Edge!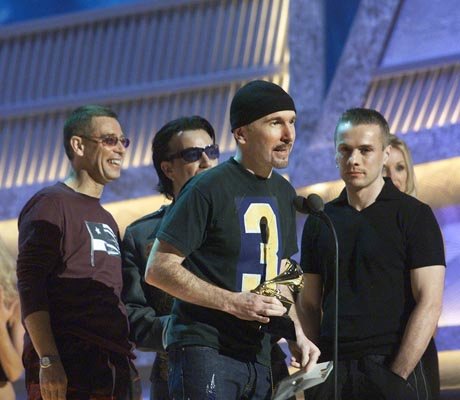 The 2002 Grammy Awards. Yes, U2 won three Grammys for "Beautiful Day" and it was triumphant! But when the time came to accept the awards, The Edge took over the speech making, much to the delight of host John Stewart. After U2's second trip to the stage wherein Edge did most of the thank you's and what not, Stewart joked, "I didn't know he could talk. I don't think the band knew he could talk." In response, Edge did even more talking on their third time up that night, and it was the hit of the water coolers the next day.
So, those are my Edgeisms: three highlights of The Edge's storied career that U2 fans can appreciate. Do you have any favorite Edge moments? Let me know in the comments!
The following two tabs change content below.
Brook
U2 history seeker in the radical center. The air is so anxious; all my thoughts are so reckless. Contact via Twitter at @U2RadioBrook.