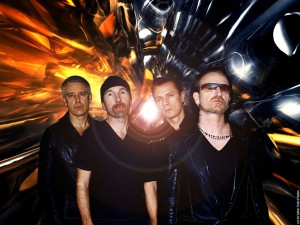 According to the Irish Times Saturday article, U2 has finished the upcoming new album and are readying for the album release and tour. The Times has quoted a "music industry source" that stated that there could be an "single in September, album September-October, tour announced December, first date April next year." The article goes on to quote the source:
"The album has been actually been finished for a few months, but a decision was taken not to release during the summer months because of holidays etc. There was one last, frantic scramble earlier this year to get a big single, so they got Adele's writer-producer, Paul Epworth, into the studio."
This release could be a more low-key announcement, with not a lot of fanfare. The Times article mentioned the 2009 No Line On The Horizon release with the BBC's all day blitz with the "U2=BBC" logo altering for the event. The BBC has stated that it had given the band "undue prominence". The Times article goes on to state:
As the track listing and artwork are finalised this week for the new album, it's back into the fray for the band Time magazine once had on its cover as "rock's hottest ticket".
So we seem to be seeing all the sights of an imminent release or at the very least a announcement of the release and single news. But as always, with U2, we must assume nothing, and take these newest details as predictions and not solid confirmations. But it appears to be very good news for U2 fans everywhere.
The following two tabs change content below.