I thought that I would take a break this week from reliving the Elevation Tour to reminisce about the 360 Tour that started five years ago this week. I did not go to the opening show in Barcelona, but I did go to the U.S. opener in Chicago in 2009. No Line on the Horizon was released in March 2009, and I immediately fell in love it with as I had with All That You Can't Leave Behind. U2 promoted their new release with five consecutive nights on the David Letterman Show and a mini concert and interview at Fordham University broadcasted on Good Morning America. My favorite songs off of No Line are "Get on Your Boots," "I'll Go Crazy if I Don't Go Crazy Tonight," "Breathe," "No Line on the Horizon," and "Moment of Surrender." U2 went on the road to support No Line on the Horizon with the 360 Tour. For this tour, U2 went back to stadiums. It seemed my U2 obsession had returned, after a brief vacation during the Vertigo tour. I saw eight magnificent U2 shows on the 360 Tour in 2009.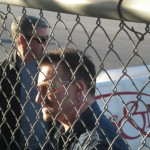 The U2 360 show in Las Vegas was my favorite on the 2009 U.S. leg because it was a great U2 show and it was in my second favorite city, Las Vegas. It was a great set list that included Elvis' "Viva Las Vegas" as well as a snippet of "In God's Country." During the band introductions, Bono said Larry was the 'Elvis of U2.' Those two Elvis moments really made the show for me. Another great moment was when Larry smiled and waved to me at the beginning of "I'll Go Crazy." The Vegas show was also great because the whole day was relaxed, hanging out with everyone outside before the show (including a visit from Bono) and having the freedom to move around wherever I wanted during the show.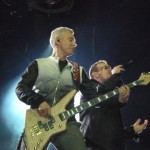 The U2 360 shows in DC, Oklahoma, plus the first night in Chicago, are tied for my second favorite shows for very different reasons. I loved the DC show even though it had my least favorite set list because U2 did not play "No Line on the Horizon" and didn't replace it with anything. Even though I went alone, the DC show had a great energy from both the audience and the band. This was my hometown show plus it was my first time I was at the front rail on this tour, and the most center  I ever was. And I did have my Larry moment when he smiled at me from the drum kit while I was jumping up and down in my Larry Mullen Band shirt. And I didn't imagine it either because someone came up to me after and told me she saw Larry smile at me. Oklahoma was great because it was the first time I was really relaxed and moved around the concert. The first time I went back behind the stage to watch Larry and have room all to myself – not worrying about 'my spot.' Larry smiled and waved at me at the beginning of "I'll Go Crazy." Chicago was amazing because it was the U.S. 360 tour opener, and it had the best set list of the tour. I heard "Unforgettable Fire" for the first time and "Pride" and "Bad," two of my all-time favorite songs, were played for the only time of the eight shows I saw that leg. Chicago was very stressful though and very exhausting because we waited in the GA line all day in the hot sun and then had people all around us smushed up against us during the concert.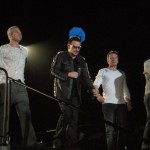 The U2 360 show in Raleigh show was good because it was my birthday show (a day early), and I heard "In a Little While" (my favorite song off All That You Can't Leave Behind) for the first time since the Elevation Tour. We also heard the sound check and had the perfect spot on the catwalk where Larry, Adam and Edge each stopped in front of us during "I'll Go Crazy." The Charlottesville show was good because we stood at the front rail on the side of the stage, Bono sang a verse of "Unforgettable Fire" to us, and I could really hear Larry's 'HEY HEY HEYs' during "Get on Your Boots" because the vocals were SO loud. At the time, I did not appreciate the Charlottesville show because of all the horrible traffic we encountered getting to the show, but now listening to the recording it was a really good show. The second show I caught in Chicago (Sept 13) was good because "Your Blue Room" was played for the first time ever, and it was a very relaxed show. The Atlanta show probably would have been better if I wasn't sick and alone. I had a great spot at the front rail in front of Adam, and Larry gave me a nod from the drum kit during "Beautiful Day" even without my Larry Mullen Band tee. For the first time in my life, and I hope the only time, I left a U2 show early. I left during "One" because I was so sick, but at least I got to see a little of the show from across the stadium for the first time.
A great thing about 360 2009 was that I got to see U2 in cities I had never seen them in before and obviously visit cities I've never been to. My whole life I had wanted to visit Chicago and go to Wrigley Field. Because of U2, I got to do that and now I love Chicago! I had always wanted to visit Atlanta as well and got to do that. Although I'm not a huge fan of Atlanta, I am glad I got to visit the Martin Luther King sites. I had never really wanted to go to Oklahoma, but it was cool to see it. And I had been to Las Vegas twice before, so any excuse to go to Vegas. I love Vegas! 360 2009 was also great because I got to see and hang out with a lot of friends that I hadn't really seen since the Elevation Tour, because I wasn't really into the Vertigo Tour.
I went on to see all 16 U.S. shows on the 360 Tour in 2011, after the tour was delayed in 2010 for Bono's back surgery.
Chicago (09-12-09)
The following two tabs change content below.
I have finally found what I am looking for - all because of U2. I am writing my U2 memoir called "On the Road with U2: my musical journey." It is about the 75 U2 shows I've been to since ZooTv, including my three-month road trip during the last leg of the 360 Tour where I drove to every US concert. More than just the concerts, it is about the places I've been, the people I've met, and my quest to meet Larry.
Latest posts by On the Road with U2 (see all)