The opening track on U2's first LP, way back in 1980, I can't think of another song ever recorded that served as a more perfect call to arms for what would become the greatest band in the history of the human race. From the very first note, this song served as an announcement that something special was beginning, that who already had a lot to say, and whose collective proverbial mouth would only get bigger as time passed. Boy is undoubtedly a great album, and those critics who tagged it 34 years ago as one of the greatest debut albums of all time were on to something, something that is perfectly summed up in the four minute slab of post-punk that the world now knows as "I Will Follow" – that something is this: forget the Clash, or at least disregard their hype – here is the real "only band that matters".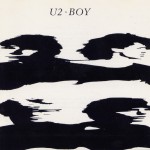 Like many of Bono's lyrics, "I Will Follow" tells several different stories at once. The first layer is the obvious and expected romance – if you walk away, I will follow. We've all heard the stories about how Ali wasn't immediately convinced that Bono was her soul-mate, and it's not hard to imagine the lyrics to this song as his message to his love: "You're not getting rid of me that easily". The slightly more subtle message in this song, running somewhere beneath the current of mainstream profession  of love that the radio expects, is an admission of Bono's servitude to the Christian God. Although I don't share Bono's beliefs, I do admire the man for his convictions, and it's really something the way he's never strayed from his chosen path to wander down the streets of rock star excess that so many of his contemporaries have fallen victim to. I also respect and appreciate the fact that Bono's Christianity has driven him to do some pretty amazing things – rather than the usual judgemental exclusivity that seems to be number one on religion's hit-list today, Bono's over-riding message has always been one of acceptance and inclusion, and "I Will Follow" is Bono's public profession of faith – speaking to the muse that he recognizes as God, that he will follow where the spirit leads him.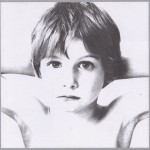 Of course, every U2 fan knows that I Will Follow is U2's most frequently played song in the live universe, having been performed over 800 times in the band's career. The song is also unique in the fact that it's appeared on every single one of U2's tours. These performances have varied from strictly faithful to the original studio version, as the song has appeared most often, to the song's performances during the band's experimental '90's, when "I Will Follow" would appear tweaked to match the theme for whatever tour was going on at the time, from the almost "unplugged" sounding performances on the B-Stage during Zoo-TV to the psychedelic, space age treatment which the song received on Pop*Mart. Normally, as I'm wrapping up these U2101 pieces, I talk about the chances of the song appearing at future U2 shows, but this is one time – maybe the only song for which this would apply – that I almost feel silly for even asking. I mean, of course "I Will Follow" will continue to be a staple at U2's live concerts. Even if it isn't played at every show, I think that "I Will Follow" is as close to a "guaranteed" performance as one is going to get, and I personally wouldn't have it any other way.
"U2101 - I Will Follow"

,
The following two tabs change content below.
broadsword
Ever since I realized as a kid, while poring over the liner notes of the Bob Marley - Songs of Freedom boxed set, that writing about music was a viable career choice, one of my greatest desires has been to write about U2. The band has been a major part of my life for as long as I can remember, and I'm thrilled to have this opportunity to contribute a little something to the fantastic online community that's been built around the band.
Latest posts by broadsword (see all)