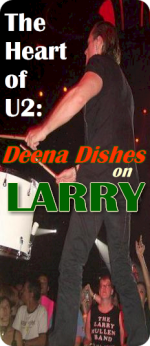 Yes, that's right. Not Larry Mullen the drummer, but Larry Mullen the hugger. To hug is to clasp or hold closely, especially in the arms, as in affection; embrace. And a Deena Dishes on LARRYhugger is someone who enjoys hugging, and who hugs as often as possible. U2's supposedly shyest, least public member, the one who rarely greets the fans, has said less than two words to me, but has hugged me twice. And they were the most glorious five seconds of my life!
The date was October 19, 2001. It was the first show I went to on the third leg of the Elevation Tour and just a little over a month after the terrorist attacks of 9/11. This was the first show U2 had every played in my hometown of Baltimore, Maryland. After camping out all night on the cold, smelly streets, we walked around the other side of the Baltimore Arena around 3:00 pm to wait for the band to arrive. Around 4:30 pm U2 finally arrived. We watched them drive in and then one by one walk out toward us. First Bono, then Edge, then Larry and finally Adam. All four members of U2 talking with the fans, signing autographs and taking pictures. We could barely believe it! When Larry walked over to me 2 me and Larry 2001 croppedbiggerI said, "I don't have anything for you to sign, so can I have a hug?" Larry looked at me a little strangely, then smiled and said, "Yes." It was a nice, strong hug. After Larry hugged me, I thanked him, turned around and cried like a baby. I was so overcome with emotion. I had been waiting to meet Larry for 14 years!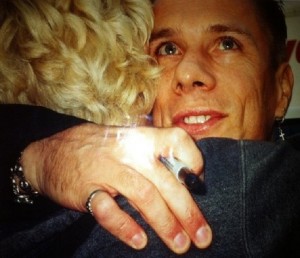 Fast forward 10 years to July 26, 2011. It was the final U2 360 show in the U.S. at Heinz Field in Pittsburgh, Pennsylvania. I arrived at the stadium around 2:00 pm to wait for U2 to arrive, hoping this would be the show Larry would actually stop to greet the fans before going inside for sound check. (I had this hope at the previous 15 shows with no luck.) Around 5:00 pm U2 finally arrived. Both Bono and Edge came out to greet the fans. I couldn't get close enough to talk with them, but I did see Larry and Adam get out of their cars and walk inside. My friends Matt and Melissa talked with Bono and selflessly told him about me and how I had driven to every U.S. show and would like to meet Larry. Brian, Bono's security guy, told them to wait there and he would see what he could do. Brian came out later and told me Larry was in a meeting, but he told Larry about me and Bono told Larry about me. Maybe Bono and Larry knew he was talking about me, since I talked with Bono in Seattle and Oakland about meeting Larry, and Larry sometimes waves to me as he walks to the stage – and Brian said he's seen me at the shows. Brian took my phone number and said he would look for me inside. I waited on Edge's side of the inner circle to wait for U2 to enter, as I always do. But this time I was clutching my phone knowing at any second it could be Larry on the other end. (Yes I know it would most likely be Brian, not Larry calling me, but I was very tired from the 18,000 miles I had driven over the past three months.) After the opening band finished, Brian came over and told me that he was still working on getting me to meet Larry.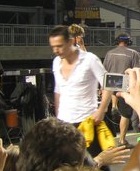 When U2 walked out of the tunnel (on Adam's side) I noticed that Larry was not first as usual. Adam and Edge were first and Larry and Bono were behind them, so I kind of thought something was up. But then somehow Larry moved up front. As Larry walked up the ramp, he locked eyes with me and was smiling. He walked across the platform and then jumped down to me and hugged me. He didn't say a word, he just put his arms around me. I think I muttered a 'thank you.' Larry gave me the biggest, best hug ever and then went on stage. I burst into tears. Everyone around me congratulated me and hugged me, which made the moment even more special. I was so excited that I don't really remember "Even Better Than the Real Thing" or "The Fly." I don't think I really came to until "Mysterious Ways" when Larry's drum kit turned around and faced me behind the stage. I never thought Larry would walk over to me and hug me on his way to the stage before the show. I kept replaying it over and over in my head. And to this day, I still can't quite believe it actually happened.
So yeah, Larry gives good hug.
The following two tabs change content below.
I have finally found what I am looking for - all because of U2. I am writing my U2 memoir called "On the Road with U2: my musical journey." It is about the 75 U2 shows I've been to since ZooTv, including my three-month road trip during the last leg of the 360 Tour where I drove to every US concert. More than just the concerts, it is about the places I've been, the people I've met, and my quest to meet Larry.
Latest posts by On the Road with U2 (see all)