U2's Pop was released in March of 1997. I remember seeing the video for "Discotheque" and loving it because U2 was dressed like The Village People, although Larry was a hostile participant. A lot of people criticized Pop for being too techno and not enough like U2. I completely disagree. I love Pop! I would tell those critics to sit down and actually listen to the lyrics on Pop. The lyrics are just as strong as always. In fact, one of my favorite U2 songs of all time, "Gone," is from Pop. The Pop era, in my opinion, is the best U2 has ever looked, collectively. In fact, it was on the Popmart Tour where I almost switched teams (from Larry) and became a Bono girl, almost.
U2 started their Popmart Tour in America in support of their new album Pop. For this tour, I again went to eight shows, but I traveled further than I had for the ZooTv Tour. Fun Lovin' Criminals, who had a song out called "Scooby Snacks," opened the six shows I saw on the first leg of Popmart and the lovely Third Eye Blind opened the two shows I saw on the third leg of Popmart. It was a really fun tour! Everything was very big on Popmart. There was a giant golden arch like McDonald's, a giant martini and a giant travelling disco-ball/lemon that brought Larry, Bono, Edge and Adam to the encore at the B-stage. Popmart was the only time I have seen U2 in a uniform of sorts. Each had his own tee shirt: Bono was Bono Man, Larry was Hit Man, Adam was PopTart, and Edge was Mr. The Edge.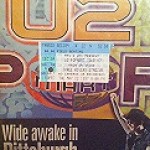 My first Popmart show was 17 years ago yesterday, on May 22, 1997 at Three Rivers Stadium in Pittsburgh, Pennsylvania. I had just graduated from college a few days prior. My friend Mike, whom I traveled with on the ZooTv Tour, and I drove five hours from Baltimore. While waiting outside the stadium I met Ken, one of the guys on the crew who drove one of the trucks that carried parts of the elaborate Popmart stage from city to city. Ken was to be a source for a couple cool U2 experiences. The highlight, and surprise, of that show was Edge singing Neil Diamond's "Sweet Caroline" karaoke style. Edge continued his karaoke on Popmart, either singing "Sweet Caroline" or the Monkees' "Daydream Believer." I left the show that night, as I would after every Popmart show, singing "If You Wear That Velvet Dress." It wasn't even the last song of the concert, but for some reason it stuck in my head, and by the end of tour, "If You Wear That Velvet Dress" became one of my favorites from Pop.
Popmart Pittsburgh 5.22.97 Set List: Mofo, I Will Follow, Even Better Than The Real Thing, Gone, Pride, I Still Haven't Found-Stand By Me, Last Night On Earth, Until The End Of The World, If God Will Send His Angels, Staring At The Sun, Sweet Caroline, Miami, Bullet the Blue Sky, Please, Where the Streets Have no Name, Discotheque, If You Wear That Velvet Dress, With or Without You, Hold Me Thrill Me Kiss Me Kill Me, Mysterious Ways, One-Unchained Melody.
01 Intro/Mofo
02 I Will Follow
03 Even Better Than the  Real Thing
04 Gone
05 Pride (In the Name of Love)
06 I Still Haven't Found What I'm Looking For
07 Stand By Me
08 Last Night on Earth
09 Until the End of the World
10 If God Will Send His Angels
11 Staring at the Sun
12 Sweet Caroline
13 Miami
14 Bullet the Blue Sky
15 Please
16 Where the Streets Have No Name
17 Lemon (intermission)
18 Discotheque
19 If You Wear That Velvet Dress
20 With or Without You
21 Hold Me, Thrill Me, Kiss Me, Kill Me
22 Mysterious Ways
23 One
24 Unchained Melody
The following two tabs change content below.
I have finally found what I am looking for - all because of U2. I am writing my U2 memoir called "On the Road with U2: my musical journey." It is about the 75 U2 shows I've been to since ZooTv, including my three-month road trip during the last leg of the 360 Tour where I drove to every US concert. More than just the concerts, it is about the places I've been, the people I've met, and my quest to meet Larry.
Latest posts by On the Road with U2 (see all)