The ZooTv Tour was my first U2 tour. U2 announced that they would be touring America in the Spring of 1992, in support of their Achtung Baby album. I was a sophomore in college, so I could now go to concerts! I had a subscription to Propaganda, U2's fan magazine, which gave me an opportunity to buy tickets to one or two concerts before they went on sale. But me being me, I wasn't satisfied with just one or two shows. No, I had to go to as many as I could. If you have been following this column, you know that for the ZooTv tour I went to eight shows.
My last show on the Zoo Tv Tour was at Veterans Stadium in Philadelphia, Pennsylvania on September 3, 1992. I did not go to both shows in Philly, as I had in Jersey and DC. I was moving back to the University of Maryland, so I only went to the second one. Back then I guess I thought some things (like college) were more important than U2 concerts. I am glad I have my priorities straight now.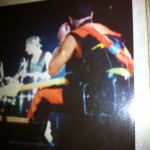 Contrary to what you see on television, it is not always Sunny in Philadelphia. It was raining that day in September, as it did for so many U2 concerts in the 1990s. Those of us waiting were allowed inside the stadium for U2′s sound check. We had to promise not to scream or cheer or clap. This task proved very difficult. Our friend Maggie, who wrote a fanzine, had gotten us hospitality passes for the show. After the sound check, we were excited to see where our passes would take us. Unfortunately, they did not take us to meet U2 backstage, but we had all the chips and soda we wanted. For my last ZooTV show, I got to hear both "Whiskey in the Jar" and "When Loves Come to Town" for the first time.
The set list for my last ZooTv show on September 3, 1992 in Philadelphia was as follows: Zoo Station, The Fly, Even Better Than The Real Thing, Mysterious Ways, One-Unchained Melody, Until The End Of The World, New Year's Day, Whiskey In The Jar, Trying to Throw Your Arms Around the World, Angel Of Harlem, When Love Comes to Town, I Still Haven't Found , Satellite of Love, Bad-All I Want Is You, Bullet The Blue Sky, Running to Stand Still, Where the Streets , Pride, Desire, With or Without You, Love Is Blindness, Can't Help Falling in Love
A few things that stand out in my memory from the ZooTv Tour are Adam introducing "Trying to Throw Your Arms Around the World" and the grocery cart, the belly dancer (who went on to marry The Edge) for "Mysterious Ways," Larry twirling the trabant car light on the b-stage for "Satellite of Love," Bono's grand entrance during "Zoo Station," but mostly the 'Hallelujah' chorus at the end of "Running to Stand Still" – it gave me chills every time, and still does. The ZooTV tour will always hold a special place in my heart as it was my first U2 tour.
01 Intro
02 Zoo Station
03 The Fly
04 Even Better Than the Real Thing
05 Mysterious Ways
06 One
07 Until the End of the World
08 New Year's Day
09 Whiskey in the Jar
10 Tryin' to Throw Your Arms Around the World
11 Angel of Harlem
12 When Love Comes to Town
13 I Still Haven't Found What I'm Looking For
14 Satellite of Love
15 Bad
16 Bullet the Blue Sky
17 Running to Stand Still
18 Where the Streets Have No Name
19 Pride (In the Name of Love)
20 Intermission
21 Desire
22 With or Without You
23 Love is Blindness
The following two tabs change content below.
I have finally found what I am looking for - all because of U2. I am writing my U2 memoir called "On the Road with U2: my musical journey." It is about the 75 U2 shows I've been to since ZooTv, including my three-month road trip during the last leg of the 360 Tour where I drove to every US concert. More than just the concerts, it is about the places I've been, the people I've met, and my quest to meet Larry.
Latest posts by On the Road with U2 (see all)