I think that it really speaks volumes to the far-reaching influence that U2 has had that their music has been covered by artists from such a wide range of genres. From metal to country to hip-hop, U2 themselves have taken cues from just about every style of music that I can imagine, and it's gratifying to see that artists from those various fields have been just as inspired by our four favorite Irish men.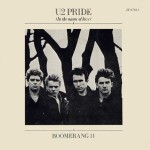 Dierks Bentley's cover of Pride (In the Name of Love) received a lot of attention a few years ago when Bono showed up at the 2012 Academy of Country Music awards to introduce the young singer. At the time, I thought that it was interesting, but I'm really not much of a fan of country music, particularly the modern stuff, so I kind of made a note, then moved on and forgot about it. Fairly recently, though, I heard Bentley's cover of U2's first top 40 US hit, and it is really something special, let me tell ya. The first thing that I noticed upon listening closely is that Bentley actually has a very pleasant voice – very smooth and even, and I think that he'd be just as good singing big band or pop as he is at the country stuff. The second thing that stood out to me about this particular cover is that despite the absence of drums, the song manages to capture the same feeling of momentum and propulsion that makes the original such a crowd-pleaser. It's impossible to not get swept up in it, belting the chorus out at the top of your lungs right along with the (very nice) harmonies on the record.
Another unexpected cover that I unearthed recently is Pras Michel's version of "I Still Haven't Found What I'm Looking For'" Hip-hop heads might remember Pras as the third member of the 1990's rap group The Fugees, alongside Lauren Hill and sometime Bono and Edge collaborator Wyclef Jean. For whatever reason, Pras's solo career never took off the way that his bandmates' did, but he has turned in some fine music over the years, a great example of which is this re-working of one of U2's most beloved songs. Really, "re-working" might be a more accurate label to apply to this cut than "cover". The song borrows the music from U2's song and the refrain from which the song takes it's title, but little else. It's better than I expected, to be honest. I shouldn't be surprised – I've written before about how much I enjoy Adam's danceable contributions to U2's repertoire, and since "Still Haven't Found…" is one of those tracks to which Adam made a large contribution, it makes sense that  a genre that's built around good times and danceability would provide the perfect fit for the song. In my opinion, Pras isn't a great rapper – which might have something to do with why he never achieved the success of Wyclef or Lauren – but the song is thoroughly enjoyable. all the same, and worth the time to track it down.
"Covering U2 - Dierks Bentley and Pras Michel"

,
The following two tabs change content below.
broadsword
Ever since I realized as a kid, while poring over the liner notes of the Bob Marley - Songs of Freedom boxed set, that writing about music was a viable career choice, one of my greatest desires has been to write about U2. The band has been a major part of my life for as long as I can remember, and I'm thrilled to have this opportunity to contribute a little something to the fantastic online community that's been built around the band.
Latest posts by broadsword (see all)