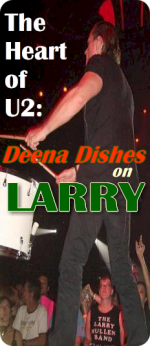 Larry Mullen is the heart of U2, the beat of the band. All I hear when I listen to music, especially U2 music, are drums and lyrics. That's all I need to be happy. I think that is why I am in the minority among U2 fans claiming October as one of my favorite U2 albums – it's all about drums! Here are my top 10 favorite U2 drum songs, or more accurately my top 10 favorite Larry songs.
1. "REJOICE" 
"Rejoice," off of the drum-dominant album October, is my absolute favorite U2/Larry drum song. The driving beat throughout the song topped off with the drum solo toward the end. This song really needs to be played live in concert on the next tour.  http://www.youtube.com/watch?v=EbErxyQrTsg
2. "PRIDE"
I know a lot of U2 fans are tired of hearing "Pride," but it has always been one of my favorite U2 songs. The drum roll before the chorus builds the excitement for this uplifting song of praise for Dr. Martin Luther King Jr. And the song is made even better, even more exciting live. When Larry leans back in his chair to put in all of his energy – sigh!  http://www.youtube.com/watch?v=sxFY861LR2E
3. "LOVE AND PEACE OR ELSE"
How to Dismantle an Atomic Bomb is one of my least favorite U2 albums and Vertigo is my least favorite U2 tour, but "Love and Peace or Else" live is one of my favorite U2/Larry drum songs. Situated in the middle of the arena on the ellipse, Larry's driving drums dominate the song. But the climax occurs when Bono takes over the drums and starts pounding. But don't be fooled, Larry is back at his drum kit on the main stage helping Bono out. http://www.youtube.com/watch?v=_qHvB4iZNsY
4. "BREATHE"
"Breathe" was one of my favorite songs from No Line on the Horizon, but hearing it live brought it to a whole new level. For the 360 Tour in 2009, Larry walked onto the stage alone, sat down at the drums and started playing. A drum solo to start the show. That's the way to set a tone!  http://www.youtube.com/watch?v=8oLFDp_hMhU
5. "40"
The reason I like "40" is because when the song is played live, it ends with Larry alone on stage playing his drums. http://www.youtube.com/watch?v=axEyeurOMxw
6. "DESIRE"
"Desire" is such a drums-driven song. The pounding drums drive the song just as your pounding heart drives your desire. http://www.youtube.com/watch?v=G1ZHXbKD_-U
7. "SCARLET"
To me, "Scarlet" is a song of just drums and lyrics – or should I say lyric. Bono repeatedly sings "Rejoice," which is why it is often mistaken for "Rejoice" off the same album October. "Scarlet" was played on the 360 Tour in 2011 and ended with a a drum solo by Larry. http://www.youtube.com/watch?v=EqYqHjch8a8
8. "I THREW A BRICK THROUGH A WINDOW"
"I Threw a Brick Through a Window" is another great drum song from October. A driving drum sound throughout, this song begins and ends with drum solos by Larry. http://www.youtube.com/watch?v=XR2cCxpkGSI
9. "SUNDAY BLOODY SUNDAY"
The drums in "Sunday Bloody Sunday" are probably the most recognizable of U2 songs. The military beat fits the song perfectly. http://www.youtube.com/watch?v=NC4OadJCZ8
10. "EVEN BETTER THAN THE REAL THING"
"Even Better Than the Real Thing" has always been one of my least favorite U2 songs, that is until they opened with it on the 360 Tour in 2011. Originally, I was upset that this song replaced "Breathe" as the show opener. But then when I heard that pounding beat of Larry's drums, I became a fan of "Even Better Than the Real Thing." Larry truly is the heartbeat of U2. http://www.youtube.com/watch?v=MZ0yf_ukDTE
The following two tabs change content below.
I have finally found what I am looking for - all because of U2. I am writing my U2 memoir called "On the Road with U2: my musical journey." It is about the 75 U2 shows I've been to since ZooTv, including my three-month road trip during the last leg of the 360 Tour where I drove to every US concert. More than just the concerts, it is about the places I've been, the people I've met, and my quest to meet Larry.
Latest posts by On the Road with U2 (see all)