Have your worlds ever collided? If you don't know what I am talking about, then they haven't. Your worlds collide when two of your passions burst together to create one amazing experience. This happened to me 22 years ago when my favorite band played a song by my favorite singer/entertainer on the 15th anniversary of his death.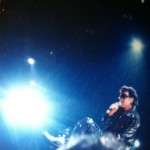 To say I love U2 would be understatement. To say I love Elvis Presley would be an understatement of epic proportion. On the 15th anniversary of Elvis Presley's death, I attended my seventh U2 show, all on the ZooTv Tour. The concert was at RFK Stadium in Washington, DC on August 16, 1992. I met Bono before the show, and he autographed the picture of the two of us taken just days earlier at Giants Stadium in New Jersey. That night, U2 ended their concert with Elvis Presley's "Can't Help Falling in Love," just as Elvis had ended all of his concerts in the 1970s. This was an amazing, unforgettable moment for me. If you know anything about Elvis fans, you know the anniversary of the King's death is sacred and very emotional. Compounded by Bono kneeling down in front of me just a few feet away singing Elvis' "Can't Help Falling in Love" in that falsetto voice of his. Indescribable!
My U2 and Elvis worlds would collide again on the Vertigo and 360 tours. An Elvis impersonator was at the Vertigo show in Las Vegas on November 4, 2005. Seeing this, Bono imitated Elvis while singing "Love and Peace" and sang a bit of "Can't Help Falling in Love" at the end of "One." Bono channeled Elvis again when the 360 Tour stopped in Las Vegas on October 23, 2009. At the end of "I Still Haven't Found What I'm Looking For," Bono sang a bit of "Viva Las Vegas" – doing his best impression of the King. Bono called Larry the "Elvis of U2" during the band introductions. This Larry/U2/Elvis connection was very exciting for me, but nothing will ever top that first time I heard Bono sing Elvis' "Can't Help Falling in Love" on the anniversary of the King's death.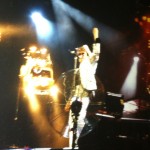 The set list for that unforgettable night in DC on August 16, 1992 on the ZooTv Tour was as follows: Zoo Station, The Fly, Even Better Than The Real Thing, Mysterious Ways, One-Unchained Melody, Until The End Of The World, New Year's Day, Trying to Throw Your Arms Around the World, Angel Of Harlem, I Still Haven't Found, Satellite of Love, Bad, Sunday Bloody Sunday, Bullet The Blue Sky, Running to Stand Still, Where the Streets Have no Name, Pride, Desire, Ultraviolet (Light My Way), With or Without You, Love Is Blindness, Can't Help Falling in Love.
The following two tabs change content below.
I have finally found what I am looking for - all because of U2. I am writing my U2 memoir called "On the Road with U2: my musical journey." It is about the 75 U2 shows I've been to since ZooTv, including my three-month road trip during the last leg of the 360 Tour where I drove to every US concert. More than just the concerts, it is about the places I've been, the people I've met, and my quest to meet Larry.
Latest posts by On the Road with U2 (see all)