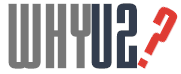 If I'm honest, sometimes U2 get on my nerves a little bit. When I'm feeling petulant or depressed, when I want to wallow in a bad mood, I usually want to listen to something other than my favorite band. Bono's spoken before about how difficult it can be to capture the emotion of joy in a song. I have to imagine that because it isn't as easy as pissed off, or lonely, or mopey, other bands just don't even bother. Not U2, though – they never take the easy way out, and even if it aggravates me sometimes, I'm grateful for that. It's tempting to let one unpleasant interaction or a single bit of bad news send me into a tailspin that could last for weeks, but U2 never let me do that. Eventually, when I'm having one of those types of days, I'll start to miss my good friends Bono, Edge, Adam and Larry, and I'll throw on "Bad", or "Stuck in a Moment" or "Sometimes You Can't Make it on Your Own", one of those songs that's got some melancholia to it. The thing is, though, even though each of those songs was written as a response to a hurtful event, U2 never wallow in it, and they don't let me do that either. U2 isn't music for enjoying negativity, it's music for moving past it and getting over it, for getting on with the day, and sometimes, even when it's not what I want, that's exactly what I need.
The following two tabs change content below.
broadsword
Ever since I realized as a kid, while poring over the liner notes of the Bob Marley - Songs of Freedom boxed set, that writing about music was a viable career choice, one of my greatest desires has been to write about U2. The band has been a major part of my life for as long as I can remember, and I'm thrilled to have this opportunity to contribute a little something to the fantastic online community that's been built around the band.
Latest posts by broadsword (see all)