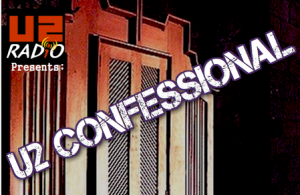 Studies say that a U2 sin is committed every 3.33 seconds worldwide. Go into the
week cleansed and confess your most outrageous, hysterical, funny U2 sinful
ways here at U2radio.com's U2 Confessional. Remember, what happens in the confessional box, does not stay faraway or so close!
Mine:  I was listening to "Even Better than the Real Thing" while going through a drive thru the other day, and after placing my order, I had to wait in front of the call box while the cars in front of me received their orders. Not knowing the
call box was still on, I continued my horrific singing at the top of my lungs.
So locked into the song, I didn't even ask why the girl was laughing when I paid
for my order. It wasn't until I got home that I realized one of the employees
wrote: "Your singing is not better than the real thing." on my coffee cup.
Laughing so hard, coffee spewed out of my mouth onto my 7 year old's artwork
from school. Embarrassed, I told him I accidentally spilled coffee on it. He
bought it.  I feel shame!
Now it's your turn.  Leave a comment about your funniest, craziest, saddest, most hysterical U2 sinful ways and feel cleansed.
The following two tabs change content below.
joepit
An avid U2 fan, who doesn't take our group too seriously. Sixth grade teacher, married and have an 8 year old boy who is also a huge fan...he didn't have a choice.