U2 frontman Bono has apologised to critic David Cohen, 30 years after he mocked Cohen's review of The Joshua Tree on stage at Wellington's Athletic Park.
Bono, aka Paul Hewson, sent an email on Saturday afternoon via U2's publicists on the Joshua Tree Tour. The band played at Auckland's Mt Smart Stadium on Friday and Saturday night.
The email, which Stuff has sighted and verified, starts out with a contrite tone.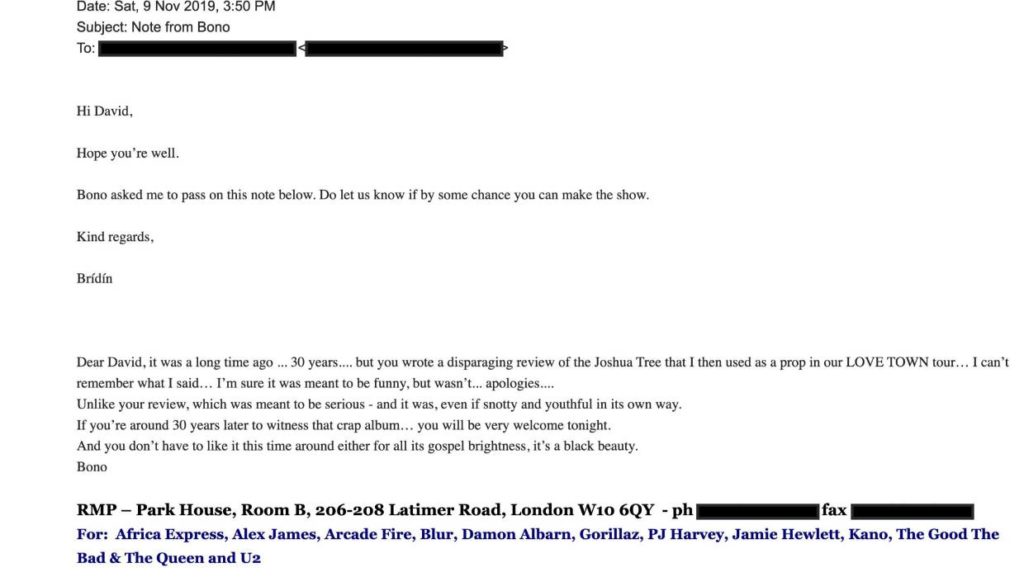 Bono's emailed apology to David Cohen.
"Dear David," it reads.
"It was a long time ago… 30 years… but you wrote a disparaging review of The Joshua Tree that I then used as a prop in our Love Town tour… I can't remember what I said… I'm sure it was meant to be funny, but wasn't… apologies."
It quickly takes a slightly backhanded turn, however.
"Unlike your review, which was meant to be serious – and it was, even if snotty and youthful in its own way."
Bono goes on to invite Cohen to the second Auckland gig, saying: "If you're around 30 years later to witness that crap album… you will be very welcome tonight.
"And you don't have to like it this time around either for all its gospel brightness, it's a black beauty. "
"I think anyone that apologises is to be admired," Cohen said after receiving Bono's email, adding that he "would plead guilty to the charge" of being "snotty and youthful."
"Maybe he just reflected on how he behaved as a young man, I mean we were all young then, and thought, when he saw the Stuff article, well maybe (he) was a bit of a prat."
Cohen, who lives in Wellington, was "pretty tempted" to go to the show on Bono's invitation, but flights to Auckland were booked solid.
Typically Cohen said that having attended "hundreds" of concerts he wasn't a fan of big stadium shows.
"I suppose again in that 'snotty', to use Bono's word about me, sense I'm not the best person to be attending these things but as I say in the context I would have made every effort to relish the spectacle."
Cohen's opinion of The Joshua Tree had not changed in the last three decades – "It still sounds meandering, over-long, and pretty humourless and ill-focused" – but Bono's apology had changed his view of the singer.
"I thought it was very classy of him and my estimation of him has gone up.
"Shirley Bassey in Diamonds are a Girl's Best Friend says we all lose our charm in the end. I think that's true, but sometimes we can acquire a little dignity in our behaviour as we get older too."
The following two tabs change content below.