I'm on an island at a busy intersection – which (fact alert!) happens to be the only U2 lyric to contain the word "busy." Like you, I have places to be and jobs to do – and yet, we all strive to stay plugged in to all things U2. If today's Facebook Live Q&A was during your work day, then you may not have been able to watch in real time to:
Hear the production people talk amongst themselves on hot mics before the video started (whereupon it was revealed that Chris Martin would be the final question, oops!)
See Edge take command as moderator (this needs to happen again! I was loving it)
Hear Bono explain the origins of Bullet and Mothers of the Disappeared, as well as explain where the streets that have no names actually are – things he has written about before, but we don't often get to hear him talk about them. Love!
Catch a cameo from Chris Rock, AKA "Chris from Jersey," AKA "Chris Springsteen"
Get the answer to the frequently asked question, "Will there be any B-sides played on the tour?" Note: Nobody actually asked that question, but Bono stated, "A lot of the B-sides on The Joshua Tree are very special…Luminous Times…Walk to the Water…" so I'm going out on a limb and calling that a hard confirmation!
Hear Bono address the mitigation of ticket sales on the secondary market. They called this a "serious question," and it is; you can tell Bono wants people to understand they don't profit from that activity. "The fans and the band are the last people to profit from this" (good answer!)…"we're working on it" (love it!)…it's really quite difficult…" (no worries, I understand)…"I think probably the paperless ticket is the best solution, like we've done here in America" (hold up! Strongly disagree! The whole "your phone is your ticket" thing is not all it's cracked up to be – as many of you know, especially when it comes to helping each other out as fans)
Watch our favorite band laugh at a Spinal Tap album name that is also a fart joke, and hear each of their favorite "Spinal Tap moments" (Bono and Edge are tied for first)
Chuckle at Chris Martin's questions ("Who is Hugh, and why can't you live with or without him?") Good one, CM!
Watch Larry call time with an airhorn app (while drinking what is either very watered down orange juice or a very strong screwdriver)
And my favorite moment….
Bono revealing that he was a shoe salesman at the Western Boot Company in Dublin in 1976, AKA the year they founded the band. I love the way he said, "I'm not sure I've said that before" with perhaps a twinge of regret. I'm thinking he knows we fans will now integrate that story into our Sacred Oral History of U2 Origins, and he's right! Bono selling cowboy boots fits nicely in between Larry's kitchen and the Bona Vox hearing aid store. Thanks, Bono!
In case you actually did miss it, here's where the U2 Facebook live Q&A lives on. Also, did it remind anyone else of this…even just in terms of how far they've come in three decades?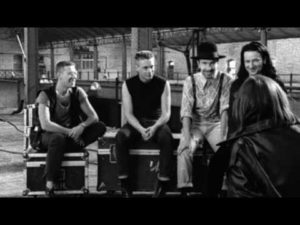 I was crossing my fingers for Larry to say, "It's a musical journey," but no luck. Maybe next time!
The following two tabs change content below.
Brook
U2 history seeker in the radical center. The air is so anxious; all my thoughts are so reckless. Contact via Twitter at @U2RadioBrook.