U2 have kicked off in earnest the Songs Of Innocence road show, taking the songs to several studios across Europe. Below is a quick recap of the 3 performances from this week. Starting Sunday in Milan, Italy, then to Paris, France, and on to London today (Wednesday) at the Maida Vale Studio for the Jo Whiley Show on BBC Radio 2. BTW, all the performances have been added to our streaming playlist.
October 12, 2014 – Bono and The Edge appear the Italian TV show, Che Tempo Che Fa. and performed The Miracle (Of Joey Ramone) and Every Breaking Wave both acoustic with The Edge playing piano on Every Breaking Wave. They where also interviewed.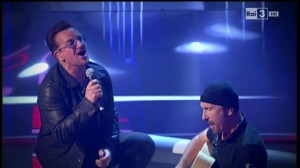 The miracle / Every breaking wave – Bono Vox… by FIPPOPIPPO
October 14, 2014 – Bono and The Edge pop up on the French TV show Le Grand Journal to perform a similar setlist that was performed on RAI TV. In addition to the songs Bono and The Edge was interviewed.
October 15, 2014 – U2 visited Jo Whiley in London at the BBC Maida Vale Studio where they performed The Miracle and Every Breaking Wave, and we also heard for the first time live Cedarwood Rd and Song For Someone. A string quintet also accompanied the band during the performance. U2 played Stuck In A Moment for Jo Whiley who had requested it.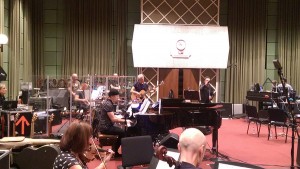 U2 is scheduled to visit BBC One's The Graham Norton Show on October 17th. Stay tuned.
The following two tabs change content below.