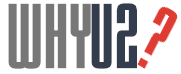 Every band has moods to their music, I think, although that's less true with some artists than it is with others. Some artists seem to focus on one mood – anger, for instance – throughout their entire body of work. Most, though have at least a a couple of songs that delve into romance or depression or lust, just to shake things up.
One thing that U2 do so well, though, is to capture an emotion so perfectly that their songs actually sound like colors. For instance, lust can be crimson, like the blood that rushes to certain body parts when that emotion is felt, ("Night and Day") but it can also be blue, like moonlight pouring through an open window into the bedroom on a steamy summer night ("If You Wear That Velvet Dress"). Sadness is frequently referred to as "blue" and there are U2 songs that paint that picture ("Tomorrow" is a great example) but real depression can also be black (like the darkness of "So Cruel") or purple like the bruise that's hidden by an abused spouse (as in "The Troubles") The emotions captured by U2 in their music always shine through so much more clearly than what in music from other groups or artists. I guess it's just one more reason to love U2 – they show us colors where there's none to see.
The following two tabs change content below.
broadsword
Ever since I realized as a kid, while poring over the liner notes of the Bob Marley - Songs of Freedom boxed set, that writing about music was a viable career choice, one of my greatest desires has been to write about U2. The band has been a major part of my life for as long as I can remember, and I'm thrilled to have this opportunity to contribute a little something to the fantastic online community that's been built around the band.
Latest posts by broadsword (see all)