With the recent news about U2 recording a video in Dublin, I couldn't help but be reminded of a previous video which was filmed in that fair city, and so I decided to write about "Sometimes You Can't Make It On Your Own" (SYCMIOYO) for today's article. SYCMIOYO was first mentioned (to me, anyway) in a newspaper article about the funeral for Bob Hewson, where it was stated that Bono and Edge performed it. At the time, I remember thinking "That's not a U2 song – must be one of those obscure old songs that Bono loves so much, or maybe something his dad was into," Years later, though, as we all know, I was proved wrong when the song appeared on the 2004 album How to Dismantle an Atomic Bomb, where it was introduced as a song about Bono's father.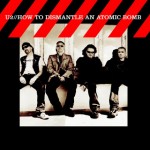 Apparently, it was originally called "Tough", after the song's opening lyric, and began to take shape around the time that All That You Can't Leave Behind was being recorded, and was based upon Bono's experiences with his father, who was dying at the time. I cannot imagine how difficult it must be to try to translate such a profound and deeply affecting experience as the death of a parent into a song meant for mass consumption, but Bono, (with some help from his friends Edge, Larry, and Adam) managed to do so. The result is a stirring tribute to the life of Bob Hewson that's as much about Bono as it about his dad. I love the honesty with which Bono approached the subject, as he admitted that grieving for a lost loved one is much more a product of the feelings felt by those left behind than it is a result of anything gone through by the recently departed. Edge's mournful guitar, over the top of Larry's tick tock rhythm and the smooth bass ride from Mr. Clayton give the song a sense of stateliness and elegance that's counterbalanced by Bono's keening vocals. It's a great juxtaposition that's just as nuanced as the lyric is.
"Sometimes You Can't Make It…" made its live debut at a taping for the British variety program CDUK, then made appearances at nearly every show of the ensuing Vertigo tour. My first instinct is that the band likely won't play the song again because it's so much tied to the difficult time and circumstances that birthed i t, but I thought the same thing about "The Fly", and look at the revivals that song's enjoyed.
The following two tabs change content below.
broadsword
Ever since I realized as a kid, while poring over the liner notes of the Bob Marley - Songs of Freedom boxed set, that writing about music was a viable career choice, one of my greatest desires has been to write about U2. The band has been a major part of my life for as long as I can remember, and I'm thrilled to have this opportunity to contribute a little something to the fantastic online community that's been built around the band.
Latest posts by broadsword (see all)