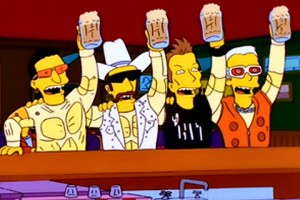 Thanks to FXX, which aired every episode of The Simpsons ever made over the past week, I was finally able to see U2's appearance for the first time in 16 years (even though my daughter has the DVR set to record what seems like every Simpsons ever, the "Trash of the Titans" episode is never, ever on. If you have seen it in syndication, correct me, but I have never seen it rerun until this week.) But as soon as I saw it again, all the memories came flooding back: the muscle suit, the boxer's robe, the single arch that U2 was legally prohibited from representing as part of the McDonald's logo, the worst U2 song about a city ever recorded, and the cowboy hat on Edge's adorably balding head. Yes, U2 fans, I'm talking about Popmart.
It was a dark time for some of us, but we held on. We said, "I'll go there with you; it's all I can do" – and perhaps we wept with sorrowful nostalgia after saying it. But we got through it, and so did U2. So for this week's Bonoisms, here are a few things Bono said while promoting Pop and the Popmart tour:
"Listen, I'll talk to Jesus. I'll talk to the lady at the check-out there at Kmart. I'll talk to anyone."
"We have many sides, many looks. We want to meet you where you are. And we're at the mall, shopping. That's it."
"It costs a fortune to look that trashy."
"Pop begins at a party and ends at a funeral."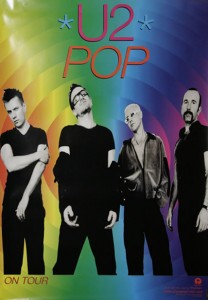 Yes, it certainly does. As painful as "Discothèque" was in 1997, my opinion is that all these years later, it's just good, clean, campy fun – which, let's be honest, is what U2 was going for in the first place. It sounds like what everyone dances to at a wedding reception (until they find out it's U2). As for the tracks that follow, I have a love/hate thing when it comes to "Mofo," and the only ones I truly enjoy are "Staring at the Sun" (probably because it's a song that non-singers can sing, and I certainly qualify), followed by "If God Will Send His Angels," "Gone" and "Please." "Last Night on Earth" – I know some people like it, but I'm not one of them. And as for the rest of the songs, they are pretty much the stuff jokes about bad U2 songs are made of. As far as I'm concerned, it just doesn't get any worse than "Miami."
So, about that funeral part. As a Christian, I just can't get on board with the theology of the final track, "Wake Up Dead Man" – at least not when it comes to the title. But after hearing Bono's comments on Jesus in the Irish TV interview last year, I'm thinking (hoping) he probably wouldn't call it that now. He must have been pretty fond of the song at one time, though, because for some reason that was one of only two songs from Pop that to be played throughout the Elevation tour. Weird, but then again – is there anything about Pop that wasn't weird?
The following two tabs change content below.
Brook
Writer, wife and mom who loves U2. Achtung Baby was released on my 15th birthday. Shooting off my mouth, that's another great thing about me. Contact via Twitter at @U2RadioBrook.