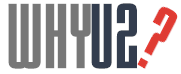 I've always loved the way U2 have been interested in technology. Back in the early '90's, the band used technology to set a new benchmark in tour hardware with the ZooTV tour and the multiple screens it took advantage of. The Pop*Mart tour of 1997 utilized the largest video screen ever assembled, while the most recent 360 tour took advantage of an exciting new stage design to accommodate larger crowds than were ever possible before. Even outside of their boundary-pushing stage shows, U2 have been at the forefront of technology for many years. Edge famously used a brand new guitar (which he helped to create), called the Infinite Guitar on The Joshua Tree's number one single "With or Without You". The U2's embrace of technology was again showcased by the band's partnership with the then-fairly-new iTunes brand by lending their name to a 4th generation iPod, a new model of the device that forever changed the way people listen to music and issuing an iTunes exclusive "boxed" set called (erroneously) the Complete U2. In 2009, the band tested the waters of the new paradigm for combined formats by releasing an experimental film in concert with deluxe packages of No Line on the Horizon.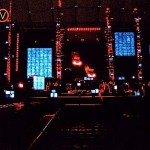 Most recently, rumors are abounding that U2 is once again joining forces with Apple in some way to help promote their forthcoming 13th LP. Even before those rumors, though, Bono had been very public about his desire to push the medium forward by using modern technology in new ways, combining a video component along with the album, or perhaps even an interactive app. However they decide to promote the new album (when it finally happens, that is) I'm confident that they'll be making use of the technology available to them in new, innovative and exciting ways.
The following two tabs change content below.
broadsword
Ever since I realized as a kid, while poring over the liner notes of the Bob Marley - Songs of Freedom boxed set, that writing about music was a viable career choice, one of my greatest desires has been to write about U2. The band has been a major part of my life for as long as I can remember, and I'm thrilled to have this opportunity to contribute a little something to the fantastic online community that's been built around the band.
Latest posts by broadsword (see all)