Like most fans that I know, October is probably my least favorite U2 album. That's not to say that I don't like it, though – I think that it would be fair to say that it simply has less music on it that i adore than any of the other U2 albums. A few of the tracks on this record that I do enjoy are "Scarlet" (my favorite from October), "Stranger in a Strange Land", "Tomorrow", and the title track. "October" the song is a somber piano driven piece wherein Bono reflects on the changing seasons and how they're an apt analogy for life and the world around him. Like much of October, the album, the song also contains some pretty overt references to Bono's spirituality and belief in God – "kingdoms rise and kingdoms fall, but you go on." Bono's vocals are fairly restrained in this song when compared to what was typical for this period, and the piano, particularly some of the chords that Edge plays, are striking and poignant.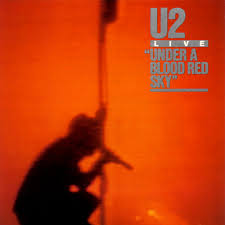 October was a mainstay at U2's live shows during the 80's, famously being paired with the likewise piano heavy "New Year's Day" for many of those performances. I, and I'm sure many of you, can easily recall the transition from "October" to "New Year's Day", with Bono's strident cry fading away just as Adam's famous bass riff kicks in, dramatically switching gears, but lending some weight to "New Year's Day" at the same time, with the thoughtful tone of the former piece perhaps forcing some fans to consider the meaning behind the latter song's lyrics instead of just rocking out to the popular and abiding UK radio hit.
Like a lot of the songs that I'd consider to be deeper album tracks which were part of U2's live set-lists during this period, "October" disappeared pretty thoroughly at the end of the decade and has yet to make a reappearance since. I'd hazard a guess that we'll probably never hear "October" live again at a U2 concert, but that doesn't mean that we can't enjoy the song's past performances. Look up a few on YouTube, and I think you'll enjoy what you find.
"U2101 - October"

,
The following two tabs change content below.
broadsword
Ever since I realized as a kid, while poring over the liner notes of the Bob Marley - Songs of Freedom boxed set, that writing about music was a viable career choice, one of my greatest desires has been to write about U2. The band has been a major part of my life for as long as I can remember, and I'm thrilled to have this opportunity to contribute a little something to the fantastic online community that's been built around the band.
Latest posts by broadsword (see all)