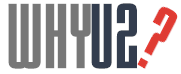 I know that it's a ways off yet – the fact is that we don't even know for sure how far off it really is – but it seems like the release of U2's looooong-awaited thirteenth long-player is finally starting to kinda sorta, maybe, hopefully, get close. I'm already so excited that I can't stand it! Rumors have been flying over the last few weeks. One source gave a release date of October 28th – which actually seems pretty believable to me, but more on that in a sec – while others are reporting that that date is wrong, but that it'll definitely be this year. Either way, even if it's on December 30th, that's still less than five months away. If we look at it from the other direction, five months ago we were still licking our wounds from the Oscars debacle. When I look at it like that, it helps to put it into perspective – that's really not that long at all!
Now, as for that date of October 28th – traditionally, U2 have liked October, as five of their twelve LPs to date have been released in that month. It's good business – shopping is starting to heat up for the holidays – and if we factor in that two further albums have come out from U2 in Novembers past, I'd say that it's a safe bet that we can rely on a fourth quarter release. I'll even go so far as to say that I'd almost guarantee that the album will be out sometime during one of those two months – maybe December second, at the latest, since that's the first Tuesday after Thanksgiving (and "Black Friday", which is a possibility in and of itself). If we can learn anything from precedents, I think that we can count on an official, quotable, reliable, confirmed announcement of date and title about ten weeks in advance of the album. If my expectations pan out, that means that we'll be getting some very good news in the next six or seven weeks. OMG I think my heart just skipped a beat!
In the past, whenever U2 have put out an album, it's been a big deal – like, the whole world seemed like it was in on the celebration.Last time around, highlights included the whole U2=BBC thing, then a solid week of performances on Letterman. The time before that, we had the Brooklyn Bridge concert and the iPod adverts. Now, some have chimed in with the opinion that we shouldn't expect that kind of fanfare this time around, but you know what? For me, and I expect for you, too, if you're reading this, an album from U2 will always be an event. It's one of those rare circumstances during which I frankly don't give a damn who thinks I'm nuts, I'm excited, by goodness, and I'm gonna let my U2 freak flag fly. I'm already planning a trip to the nearest big city so as to get in on whatever midnight release action I can find, and I fully intend to get as involved as possible in any and every bit of U2 related goodness I can track down. The world, and I think that this holds equally true for each of us as individuals, needs every reason it can get to celebrate, to shout for joy, to get uninhibitedly enthused and excited, and I can't think of any better reason than a new release from the greatest band ever. Admittedly, that last bit is a matter of personal opinion. What can I say? I love me some U2, and the thrill surrounding a new release is just one more reason for me to do so.
"Why U2? - Reason #25 - The New U2 Album Release, And My U2 Freak Flag"

,
The following two tabs change content below.
broadsword
Ever since I realized as a kid, while poring over the liner notes of the Bob Marley - Songs of Freedom boxed set, that writing about music was a viable career choice, one of my greatest desires has been to write about U2. The band has been a major part of my life for as long as I can remember, and I'm thrilled to have this opportunity to contribute a little something to the fantastic online community that's been built around the band.
Latest posts by broadsword (see all)