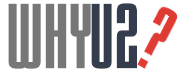 Even before they could play their instruments, U2 had passion. In some early reviews that were published in NME magazine, our guys were even made fun of for this fact. I don't remember the exact words, but some snarky writer wrote something like "U2 believes that the quality is directly proportionate to the passion.", as if U2's music and success were simply the result of some formula that could so easily be broken down  by a disbelieving music journalist. If I sound a little snarky myself, I apologize – the guy peeved me. I woke up this morning thinking about that review, for some reason, and the more I dwell on it the more irritated I get. Forget that it was written thirty-some years ago. By this time, the guy who wrote that article likely really is someone special or else (and more likely) he gave it all up and he now sits at home spewing the same kind of disaffected rubbish from his armchair. I like U2's passion. I admire the way Bono sings so hard the veins stand out on his neck and his face turns deep crimson. I like Edge's look of steely determination when he's concentrating, and the way Adam completely loses himself to the music. I even like the way the steam from Larry's own heart becomes the engine that drives the whole band forward on any given night. By this time, the guys are some of the world's best song-writers, and are very probably the premiere live act in the world, but that same passion, that same belief that success is defined by more than how many units they've shifted or how many asses they've packed into some arena; that it's dependent upon engaging and winning over each heart and brain that's connected to those rear-ends is the same spirit that's driven U2 since their inception, and I love them for it.
The following two tabs change content below.
broadsword
Ever since I realized as a kid, while poring over the liner notes of the Bob Marley - Songs of Freedom boxed set, that writing about music was a viable career choice, one of my greatest desires has been to write about U2. The band has been a major part of my life for as long as I can remember, and I'm thrilled to have this opportunity to contribute a little something to the fantastic online community that's been built around the band.
Latest posts by broadsword (see all)