As fanatical as I am about U2, I can find something personal that relates to me in almost every U2 song. Some, though. are easier than others. Some speak to me so immediately, and on such a deep personal level that it almost feels like Bono's been watching my life from a distance and pulling inspiration from it. I tend to think of those most personal of songs as "my" songs, even though the fact that such songs are so accessible likely means that everyone relates to those same pieces of music, making them less "mine" than other less relatable tracks.
One such song is "Original of the Species" ("OOTS"), from How to Dismantle an Atomic Bomb (HTDAAB). Ostensibly, the song was written about being a parent, watching your kids grow into their own selves and away from you, but I've always felt that the song worked just as well as an ode to being oneself, no matter the age of the listener or where they may be in their life. They ring just as true for my 40 year old wife as they do for Bono's tween girls – "Everywhere you go, you shout it. You don't have to be shy about it" is just about the best "be yourself" message I've ever heard. It may be true that I only feel that way because I've always been considered a little eccentric, and the affirmation implicit in this song that that's OK really appeals to me, but I find "OOTS". to be one of U2's most uplifting songs ever.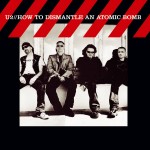 "Original of the Species" debuted in a striking piano and vocal arrangement at an Apple function back in 2004, about a month before HTDAAB was released into stores. Since then, the song's only been played about forty times – despite the fact that Bono's called it the best song on the album on several occasions, the band apparently had trouble working out how to play it in front of an audience, and so it wasn't played as frequently as some other songs from the same album. Despite the limited live performances, a live version was released on the bonus disc of the 18 Singles set, and a beautiful acoustic performance was released in 2012 through Starbucks. Edge once commented that he'd had to rewrite the chorus at some point in the song's development, and that making those changes had been particularly difficult.
I've often wondered what those original chords were and why they had to change, so one of my secret wishes is for this song to be performed with its original chord sequence on a future tour. The truth is that, despite Bono's affection for this song, I doubt that it will ever be played again. With so many other great songs in their catalog that fans are clamoring to hear, along with U2's reluctance to play mid-tempo songs, I'd be surprised if my dream ever comes to fruition. That's OK. Id' settle this point for a tour of any sort, even if the only songs they play are One, Pride, and Sunday Bloody Sunday.
The following two tabs change content below.
broadsword
Ever since I realized as a kid, while poring over the liner notes of the Bob Marley - Songs of Freedom boxed set, that writing about music was a viable career choice, one of my greatest desires has been to write about U2. The band has been a major part of my life for as long as I can remember, and I'm thrilled to have this opportunity to contribute a little something to the fantastic online community that's been built around the band.
Latest posts by broadsword (see all)