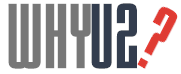 Some of the happiest times of my life have been waiting in line to get in to U2 concerts. If they're there hours before the show, saving their spot up-front, it's a good bet that they're pretty heavy into the band, and there's something really special about being surrounded by people who (at least) approach my own level of obsession with the band. Nowhere else can I  go and discuss the finer points of the radio mix vs the album version of "All Because of You", and have people actually understand what I'm talking about, much less give a damn. I remember one show I was at, one fan ordered a bunch of pizzas for all of us waiting in the GA line. At another show, someone hooked up a pair of portable speakers, and a large group of us took part in a sing-a-long for several hours before the concert. This generosity and openness is exactly what makes U2 fandom so great. Like Bono has said "This is OUR tribe" and I'm grateful to the band for giving us all at least that one reason to get along.
"Why U2 - Reason #21"

,
The following two tabs change content below.
broadsword
Ever since I realized as a kid, while poring over the liner notes of the Bob Marley - Songs of Freedom boxed set, that writing about music was a viable career choice, one of my greatest desires has been to write about U2. The band has been a major part of my life for as long as I can remember, and I'm thrilled to have this opportunity to contribute a little something to the fantastic online community that's been built around the band.
Latest posts by broadsword (see all)