Two surprising developments concerning U2 tonight from the Academy Awards. The first, and most pleasant of the two, was the acoustic arrangement of Ordinary Love, after Bono indicated a couple of weeks ago that the Oscars performance would be different from that performed on the Tonight Show. My guess is that the Tonight Show performance was such a success, and so well received, the band couldn't resist giving it a repeat airing. It will be interesting to see now if Ordinary Love appears regularly on any upcoming tours, and if so, what shape it will take.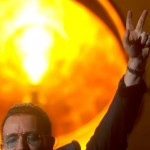 The second big shock tonight, at least to me, was that U2 did not win the Oscar for best original song. I know, I know, experts, including members of U2, have been predicting for weeks that U2 would not win tonight, but after seeing the competition's songs being performed earlier in the program, I thought for sure our guys had it locked. No offense intended to the other nominees, of course, especially the song that won, Let It Go. I'm just expressing my own little opinion, after all, and I've got a feeling that that golden statue carries a lot more weight than what I happen to think does.
Still, the night wasn't a total loss. U2's performance was very well received, and did get the first standing ovation of the show, or what was televised of it, anyway. For what it's worth, I thought it was phenomenal, and I particularly enjoyed some of the rock star behavior displayed by a Bono as he approached the edge (that's "edge", with a small "e") of the stage, near the end of their performance, to sing the song's refrain, while the accompaniment from the band grew hushed. Chill inducing stuff. Oh, well. At least that's out of the way. Now, bring on the album(s) and the tour!
The following two tabs change content below.
broadsword
Ever since I realized as a kid, while poring over the liner notes of the Bob Marley - Songs of Freedom boxed set, that writing about music was a viable career choice, one of my greatest desires has been to write about U2. The band has been a major part of my life for as long as I can remember, and I'm thrilled to have this opportunity to contribute a little something to the fantastic online community that's been built around the band.
Latest posts by broadsword (see all)