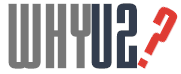 #2 – They never repeat themselves. My mom isn't what I'd consider a U2 fan, but she's kind enough to keep up with the band because she knows how important they are to me. The last time we spoke, about a week or so ago, she mentioned to me that she's always amazed at U2's constant reinvention, and that got me thinking, of course. As long as they've been around, it really is a feat that they've never done anything that came close to echoing anything that had preceded it. Every album has a different vibe, a different mood, and it's more than that they're simply a product of their times, although there's no doubt that they're influenced by what's going on in world around them. I think, just as often, U2 expressly go against trends, and, in fact, have started more than a few themselves. It's more than hyperbole to say that U2 really do have something for everybody, and it's even more impressive when you consider that they've achieved such diversity in their catalog without ever losing sight of their own unique identities. Each of us change as we move through our lives. Interests change, opinions fluctuate – it's part of growing, and if we're not doing that, why are we here? I love that U2 have the integrity to say "eh, we did that already, and it was cool, but THIS is what we're into now!" It reminds me to allow myself the same freedom, and that not only is change normal, it's healthy.
The following two tabs change content below.
broadsword
Ever since I realized as a kid, while poring over the liner notes of the Bob Marley - Songs of Freedom boxed set, that writing about music was a viable career choice, one of my greatest desires has been to write about U2. The band has been a major part of my life for as long as I can remember, and I'm thrilled to have this opportunity to contribute a little something to the fantastic online community that's been built around the band.
Latest posts by broadsword (see all)