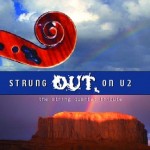 I thought that this week, I'd try something a little different. Many of us have heard each of U2's songs, the accompanying remixes, radio edits, and remasters so much that we've got every note and nuance memorized. One area of U2 fandom that I don't see covered as much, is the realm of other artist's covers of U2 songs. While many artists covering U2 choose to stay close to the source material, just as many approach our dear old friends with fresh ears and totally original ideas. Predictably, the quality of the results can vary from atrocious to amazing. I don't think I've ever heard anyone surpass U2 themselves with a cover, but I might be a little biased. Nonetheless, I thought that it might be worth our time to look at some of my personal favorite U2 covers.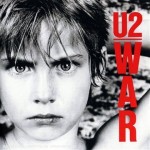 The first cover song that comes to mind is actually a complete album, and not just a song, at all. The String Quartet Tribute to U2, (AKA "Strung Out on U2") is a collection of 12 U2 classics as interpreted by various string quartets. The album was released around the turn of the millennium, and therefore doesn't include any U2 songs from All That You Can't Leave Behind on, but the 9 studio albums that U2 had released up to that point are mined to great effect here. My favorite of the tracks included here is probably the rendition of Sunday Bloody Sunday contained in this set, performed by a group calling itself "The Section". While "The Section" didn't surpass the group that gave the world the original version of this song, they came about as close as anyone I've ever heard. Their stunning translation of this U2 classic, originally from the War album, is so powerful that it did influence the original means to me. Where I used to hear Sunday Bloody Sunday as a kind of "rebel song" (despite Bono's protests to the contrary) the string quartet arrangement led me to hear the song as the funeral dirge for humanity's decency that I believe Bono intended it to be.
Equally praiseworthy is the version of "With or Without You" on the "Strung Out…" disc. Probably the most haunting thing I've ever heard, I literally can't listen to it without weeping. My eyes are welling up right now, just writing about it. This simple cover of one of U2's most recognized masterpieces is a study on heartbreak, loss, and desolation. I always imagine the Rockbiter character, in the film The Never-Ending Story, looking down at his hands as everything he's ever known or loved is crumbling away, overcome with his complete inability to stop the destruction . "They look like big, good, strong hands, don't they? I always thought that's what they were."
While not every piece on this album succeeds as adroitly, I don't think that there's a rotten one in the bunch, and if you're a fan of U2's music, I can't imagine that you wouldn't find this appealing.
The following two tabs change content below.
broadsword
Ever since I realized as a kid, while poring over the liner notes of the Bob Marley - Songs of Freedom boxed set, that writing about music was a viable career choice, one of my greatest desires has been to write about U2. The band has been a major part of my life for as long as I can remember, and I'm thrilled to have this opportunity to contribute a little something to the fantastic online community that's been built around the band.
Latest posts by broadsword (see all)