U2's breakthrough The Joshua Tree album turns 30—yes, 30— this year, but it's not too late to hit the road. The popularity of a large-venue anniversary tour to time-test the album's U.S. and global social commentary lands the Irish rock band at No. 1 among summer concert ticket sales, according to ticket-resale giant StubHub.
"The Joshua Tree Tour 2017" has so far outsold the No. 2 top ticket-seller, British contemporary pop singer Ed Sheeran, by 65%, even with fewer than half as many shows (Bono and company's 13 summer stops compared to Sheeran's 32). U2 exceeds last year's top ticket-seller, Adele, by 15%, and with eight fewer dates.
U2 began the U.S. leg of its tour Sunday in Seattle, with Microsoft's Bill and Melinda Gates in attendance, Reuters reported. The show opened with an even earlier song, "Sunday Bloody Sunday," before powering through "New Year's Day," "Pride," and the whole Joshua Tree LP played in the order of its tracklist.
The StubHub top-sales list covers tickets already sold for concerts from Memorial Day on May 29 to Labor Day on Sept. 4. It is limited to U.S. tour sites.
Looking at average sales per show, U2 outsells the second highest per-show performer, Lady Gaga, by 118%. Eight of U2's dates are the top in-demand of individual events all summer and the band's June 3 Chicago appearance is the most in-demand concert of the summer.
"Legacy rock acts," as they're sometimes called, have dominated the list for the last three years, StubHub said. But demand isn't exclusively driven by nostalgia. Hip-hop star Kendrick Lamar broke the top 10 list for the first time, only three weeks after his Damn tour was announced.
Here's the complete Top 10: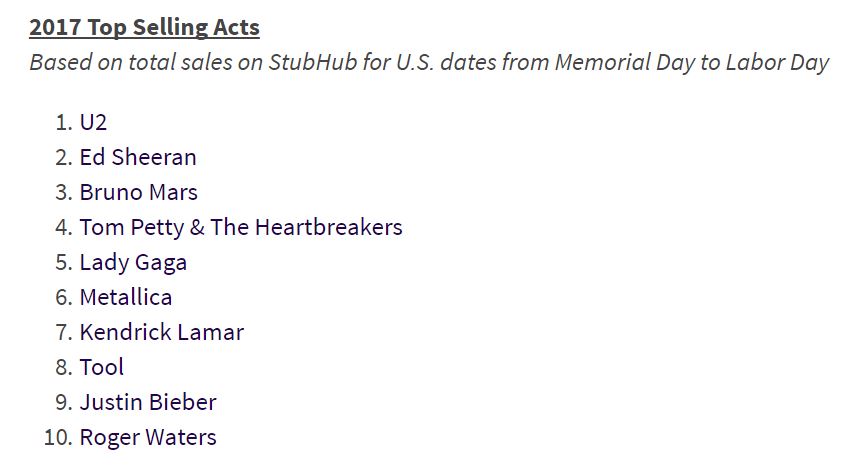 Source: MarketWatch
The following two tabs change content below.