I think that one of the most tragic stories I've ever heard is the one about Bono's mother, Iris, suffering an aneurysm at her own father's funeral when Bono was fourteen, then dying a few days later. It's so incredibly unlikely and filled with pathos that if I didn't know it to be true, I'd think it was a story made up by a writer – it's one of those cases of truth being stranger than fiction. Of course, this event had a long-lasting and palpable effect on Bono, and it's one of most often written topics in all of U2's music. Several songs, from early cuts like "Tomorrow" and "I Will Follow" to later recordings like "Mofo" were influenced by Bono's loss, and now we've got one more to add to those ranks. Songs of Innocence's own "Iris (Hold Me Close)" is the latest and likely the most personal song in U2's repertoire about the death of Bono's mother and the effect it had on the singer.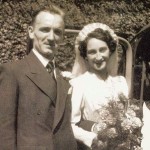 The first point that I'd like to draw attention to is the line "something in your eyes took a thousand years to get here." Obviously, the reference to "a thousand years" isn't literal but is instead meant to represent an unspecified long period of time. The line makes me think that Bono recently experienced some epiphany while viewing photos or video of Iris, or perhaps that he recently remembered something, but that this realization changed something for him. Certainly, his own perspective would have changed over the years as his children were born and he watched them progress in maturity, but he surpassed his mother's length of tenure as a parent several years ago. I wonder just what it was that occurred to him and how it affected him.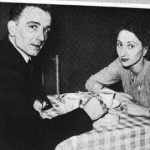 Another aspect of the song that always makes me think is the portion of the lyrics wherein Bono is telling us about some of his memories of his mother. "Iris standing in the hall, She tells me I can do it all. Iris wakes to my nightmare – 'Don't fear the world, it isn't there.' Iris playing on the strand, she buries the boy beneath the sand. Iris says that I will be the death of her. It was not me" forms a mental image of of a deeply caring mother, but also of a woman who loved to have a good time with her son, and who had a good, albeit black, sense of humor. Some of that same character trait is evidenced in Bono's lyrics here with the final two lines – those about Bono being the death of his mother – in a lyric that is at once both darkly humorous and wryly poignant.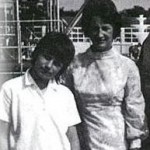 I have some doubts as to whether or not "Iris (Hold Me Close)" will ever be performed live. Although the song is deeply moving, it falls into that mid-tempo category that the band often eschew in their live shows. Furthermore, I have a suspicion that the song might cut a too close to the bone for Bono to be sung on a nightly basis. Maybe, though, it's just the kind of catharsis Bono needs – to sing his grief out in front of eighty thousand of his closest friends. If the song is performed live eventually, it's sure to be a highlight of whatever shows it appears at, but even if that's not the case, the band have created a fitting and moving tribute to Bono's dearly departed mother.
The following two tabs change content below.
broadsword
Ever since I realized as a kid, while poring over the liner notes of the Bob Marley - Songs of Freedom boxed set, that writing about music was a viable career choice, one of my greatest desires has been to write about U2. The band has been a major part of my life for as long as I can remember, and I'm thrilled to have this opportunity to contribute a little something to the fantastic online community that's been built around the band.
Latest posts by broadsword (see all)