If you weren't expecting this, you should have been. What other song could I write about today – "today" being January first – but "New Year's Day"?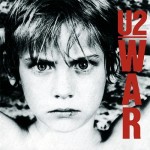 Arguably U2's first international hit, inarguably one of their most widely known and loved, "New Year's Day" was the lead single from 1983's War album, released to the world in January of 1983, 31 years ago. I've read, as I'm sure you have, that the song was written about Poland's Solidarity movement, which is a topic that I'm not too well versed on. I checked Wikipedia and learned that the Solidarity movement is a labor union in Poland, formed in response to unfair labor practices in 1980. It's a great example of people working peacefully together toward a common goal, one of the main beliefs upon which U2's ethos was established, and one of the main ideas behind the album that the song is from. See, War is an album that's all about coming together for the common good. It's about ignoring the basic human desire to wage war, to hurt others. It's about the power of the people to enact change through peaceful protests. Bono once famously said that "New Year's Day"'s album mate "Sunday Bloody Sunday" is not a rebel song, but if you're paying attention, you know, of course, that it really is. The whole album is a rebel album, full of rebel songs. It's rebelling against indifference and apathy and especially violence. It's a kind of war against war, if you will, maintaining that it's not good enough to simply not take part. Like the old saying says, if you're not part of the solution, you're part of the problem, and the problem is war. The solution is not sitting silently, the solution is finding new and better ways to work out our disagreements. New and better ways like labor unions, which brings us full circle back to the song that this article is about.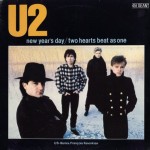 I think that "New Year's Day" is like a lot of U2 songs – it grew from a germ of an idea into something greater than the sum of its parts. In this case, the band took the idea of the Solidarity Movement and the lessons that we could learn from that, then expanded those ideas into a something bigger. "The old ways don't work anymore" the song says "isn't it time to try something else? Isn't it time to get rid of the prejudices and closed minds and the intolerance and start all over again?" That's where the comparison to the start of a new year comes from. Just like January first is a great time to start off with a personal clean slate, the song calls for a new outlook on war, leading to new beginnings in all of our disagreements. The chorus "I will begin again" is an acknowledgement that every day and the accompanying problems thereof needs to be viewed through fresh eyes to start us on our way to finding those new solutions. Here's hoping that we all remember to use those new eyes this year, as we seek out constructive and non-violent solutions to whatever problems we might face.
The following two tabs change content below.
broadsword
Ever since I realized as a kid, while poring over the liner notes of the Bob Marley - Songs of Freedom boxed set, that writing about music was a viable career choice, one of my greatest desires has been to write about U2. The band has been a major part of my life for as long as I can remember, and I'm thrilled to have this opportunity to contribute a little something to the fantastic online community that's been built around the band.
Latest posts by broadsword (see all)