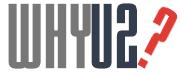 I've been thinking a lot recently about all the things that have happened over the years, all the reasons for there to never have been a U2, or for the band to no longer continue. To start with, when the band initially formed none of the guys really knew how to play their instruments.
Think, though, about how different history might have been if the band had started out with four guys who knew what they were doing – four guys who didn't have to hammer out their musical identities together, four guys who had other prospects, or who took the band less seriously. Then there was that bombing that Bono recently wrote about in "Raised By Wolves". What if Paul Hewson had died in that bombing? How different would Adam, Larry, and Edge's lives have been? What if Edge had decided not to continue with the band when he suffered his moment of doubt back in 1981. What if Larry's day job had interfered with his band responsibilities, and he had decided to call it quits. What if the band had broken up during the difficult sessions for Achtung Baby? What if that show that Adam missed on ZooTV had made the others give up the dream? How about the perceived failure of Pop, or No Line on the Horizon – what if those disappointments had convinced our four guys that their best days were behind them and it was no longer worthwhile to continue? There are lots of other examples, too – reasons that U2 shouldn't still be around. Despite everything, though, they've beaten the odds countless times and continue to deliver work that is challenging, rewarding, interesting, and critically acclaimed. During this season of thankfulness, one of the biggest blessings that I count is the formation and survival of a little rock band from Ireland. You might have heard of them – they're called U2, and they're absolutely fantastic.
The following two tabs change content below.
broadsword
Ever since I realized as a kid, while poring over the liner notes of the Bob Marley - Songs of Freedom boxed set, that writing about music was a viable career choice, one of my greatest desires has been to write about U2. The band has been a major part of my life for as long as I can remember, and I'm thrilled to have this opportunity to contribute a little something to the fantastic online community that's been built around the band.
Latest posts by broadsword (see all)