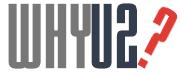 I was thinking last night about my "Why U2?" series of articles, and it occurred to me that I had yet to write about one of the biggest and most obvious reasons that I love U2, and that is the songs. I mean, really, that's what it all boils down to, isn't it? The songs; the music, and despite the lateness with which I am covering this topic, songs are probably the number one reason that anyone likes any band. From "I Will Follow" to "The Troubles", U2 has a catalog of music that's stirring, moving and fun, covering the gamut from straightforward rock ("Vertigo" and "The Fly") to experimental ("Fez/Being Born" and the entire Passengers album), from radio-friendly pop ("The Sweetest Thing" and "A Day Without Me") to challenging, thought provoking ballads ("One" and "Running to Stand Still"). Sure, U2 have their share of top 40 hits, but the really rewarding thing about digging into their body of work is that there's so much great stuff that was never meant for mass consumption – even though All That You Can't Leave Behind sold millions of copies, for instance, a deep album track like "Kite" never could be and was never meant to be a mainstream hit, instead serving as a reward for those who took the time to listen past the singles "Beautiful Day", "Stuck in a Moment", "Elevation", and "Walk On". Even those songs that are less than fan-favorites (my personal least favorite is "Jerusalem", from October) have something to recommend them, as the band never give less than 110% and that passion shines through every moment of every song. For those people who never dig past the surface, the songs might be all that they know of U2, but even that's reason enough to love the band.
The following two tabs change content below.
broadsword
Ever since I realized as a kid, while poring over the liner notes of the Bob Marley - Songs of Freedom boxed set, that writing about music was a viable career choice, one of my greatest desires has been to write about U2. The band has been a major part of my life for as long as I can remember, and I'm thrilled to have this opportunity to contribute a little something to the fantastic online community that's been built around the band.
Latest posts by broadsword (see all)