Bono radio interviews? Those are so mid-September. Mr. Hewson has put the radio station interviews behind him for now in favor of personal appearances, which is great because we can see more of his spectacled face on our tellies – that is, if the event is broadcast. Here's where you can see Bono now and in the coming weeks:
On the Australian version of 60 Minutes, criticizing the Prime Minister for not sending relief workers to Africa to treat Ebola patients.
At the Web Summit in Dublin, talking up Irish commerce before a captive audience, hobnobbing with Peter Thiel and the producer of "House of Cards," and probably defending U2's business decisions – again.
Planning the tour! Well, hopefully. Keep reading.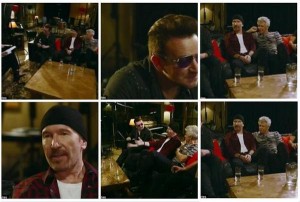 In news that Rolling Stone broke this week, it appears U2 is considering some kind of unprecedented two-night structure for the 2015 tour. How would this work?
According to Adam (which is almost like something being according to Bono), "One night would be a kind of loud, explosive rock and roll kind of event and then the other night's show take the acoustic arrangements of some of the songs, and kind of present those songs in a much more intimate way. But we don't really know how that's going to sound and look." Yeah, I don't really know how that would look or sound either – or if it's something fans would even want (remember us? We have needs!). But we'll see if this even pans out.
We're bound to see more of Bono and the other band members in the next few weeks – hopefully, not just answering dumb questions from TMZ outside of grocery stores. If you see any good interviews or hear about more U2 appearances, tweet them to me @U2LyricsDaily1.
The following two tabs change content below.
Brook
U2 history seeker in the radical center. The air is so anxious; all my thoughts are so reckless. Contact via Twitter at @U2RadioBrook.