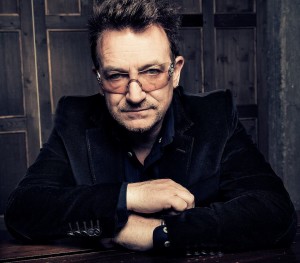 Bono knows that haters gonna hate, but he's handling the backlash with the class that we all know he's capable of. In one of the plethora of radio interviews this past week, it would have been great to hear him say, "Who the hell is Tyler the Creator, and what kind of name is that, anyway?" But as we all know, that's not his style. He did, however, let out a humorously loud, "My GOD!" when asked about Sharon Osborne by BBC Radio. That was the best, but here are some other great Bono comments on U2 haters from the past week.
Bono's hater deflection strategy, it appears, is to answer with:
Feigned ignorance – "If people have a problem with the way we released the album, wouldn't I have read something about it online?"
Rebellion – "That was kind of why you got into a band, to stir things up and annoy people. That's the whole punk rock thing…the only thing that could have gone wrong would have been being ignored."
Humble brags – "I just heard that 38 million people have listened to Songs of Innocence in the last 7 days, which is more people than anyone ever listened to The Joshua Tree. Now that doesn't mean they've all loved it, but they've listened to it."
Repudiation – "You know what it's like in the blogosphere. The same people who used to write on toilet walls…these are the people who are now on the blogosphere. There's a lot of haters, and they can try and drown out the lovers, but they're not going to."
Self-deprecation – "We get people might want to delete it, but believe me, no one has deleted more U2 songs over the last five years than U2."
Resilience – "The people who are wincing and crying and getting upset, it's kind of exciting…we don't want our music to be boring."
If there's one upside to U2 haters flooding Facebook and Twitter with their poorly spelled grievances right now, it's this: Maybe, just maybe, Bono and the boys will figure out that it's not necessary to cater to the kids anymore – and if so, it just might lead to Songs of Experience being released much earlier. Who agrees?
The following two tabs change content below.
Brook
Writer, wife and mom who loves U2. Achtung Baby was released on my 15th birthday. Shooting off my mouth, that's another great thing about me. Contact via Twitter at @U2RadioBrook.