I usually like to discuss older tracks in these articles – songs that have appeared on multiple tours, normally with several different arrangements. That said, I also have to follow my must, and today, I can't get "I'll Go Crazy If I Don't Go Crazy Tonight" out of my head, so I'm just gonna give in and talk about that. I feel sometimes like U2 fans are one of the most contradictory groups in existence. It's hard to think of a more dedicated group of die-hards anywhere in the world, but at the same time I often find myself thinking "if you hate the band so much, why are you even here in this forum?" I think that it's probably part of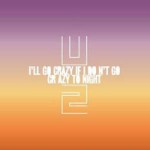 the same thought process that allows big brothers and sisters to make their siblings lives complete hell, but then to stand up and protect the same sibling from other tormentors. "Goodness help anyone who isn't a U2 fan, but I'm gonna sit here and pick apart and ridicule and hate on any and every thing that the band does." I say all of that because I find it difficult to discuss anything about No Line on the Horizon (NLOTH) without feeling like I have to defend it and myself. That's not saying that it's a perfect record – it certainly isn't – or that anyone who criticizes it (or the band)  is automatically wrong – they aren't – but I have observed what I feel to be an excessive amount of disapproval for U2's 12th LP and its accompanying tour. One of the highlights of that tour was the remixed version of "…Crazy Tonight" that served as one of the centerpieces of the shows on that tour. Many people have written and spoken about their dislike of those performances, but at each of the shows I saw or attended, there wasn't a single song that whipped the crowd into a frenzy better than "…Crazy Tonight". It was one of those moments where the band and the concert attendees would forget about seeming "cool", or "above it all" and would let it all go in a climax of tribal emotion.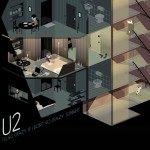 By contrast, the album version of the song is one of the most delicate, controlled moments of the whole record, with an intricate, crystalline guitar riff upon which was perched the difficult-to-manage teeter-totter of melody and passion that the band have made a career out of. Let me speak plainly here – the album version of "…Crazy Tonight" is a gorgeous piece of pop-rock craftsmanship that would have translated to the live arena beautifully. If you don't believe me, check the song's live debut from the March fourth, 2009, episode of David Letterman. For a long time, I felt that "Magnificent" should have been the album's important first single, but with some distance and hindsight, I now believe that "…Crazy Tonight" might have been even better, and although I think that "Boots" is a great song, if this song had been released to radio at the start of the album's publicity campaign, I think that the ensuing months and years might have told a different story, and those haters'd be looking back at NLOTH much more fondly.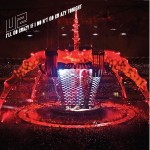 It should therefore come as no surprise that I'd really like to hear "…Crazy Tonight" again on forthcoming tours. I fear, however, that NLOTH might become victim to the same school of thought that prevents U2 from revisiting Rattle & Hum or Pop more often – that is that they're going to pretend that the album never happened. That's really a shame, if you ask me, because NLOTH has plenty to recommend it. If that does turn out to be the case, however, at least they can't ever take away our memories of the the album's promotional tours.
The following two tabs change content below.
broadsword
Ever since I realized as a kid, while poring over the liner notes of the Bob Marley - Songs of Freedom boxed set, that writing about music was a viable career choice, one of my greatest desires has been to write about U2. The band has been a major part of my life for as long as I can remember, and I'm thrilled to have this opportunity to contribute a little something to the fantastic online community that's been built around the band.
Latest posts by broadsword (see all)